Ascendance of a Bookworm (本好きの下剋上 ~司書になるためには手段を選んでいられません~Honzuki no Gekokujō: Shisho ni Naru Tame niwa Shudan o Erandeiraremasen) is an anime adaption based off of the light novels and manga by the same name.
Season 1 of the anime began airing on October 2, 2019 on WOWOW. Season 2 of the anime began airing on April 4, 2020 with ABC TV [1]. Crunchyroll is releasing the English subbed and dubbed versions on their website.[2]
Synopsis
When she woke up, she was in a parallel world...
An avid bookworm and college student Motosu Urano ends up dying in an unforeseen accident. This came right after the news that she would finally be able to work as a librarian like she had always dreamed of.
When she regained consciousness, she was reborn as Main, the daughter of a poor soldier. She was in the town of Ehrenfest, a town that existed in a parallel world and had a harsh class system where the magic-wielding nobles ruled supreme. But Main doesn't really let that get to her. After all, as long as she had books, she didn't really need anything else.
However, this world had a very low literacy rate and no real way of printing books, so books were scarce and belonged only to the nobles. They were completely out of reach for the daughter of some poor soldier. But that doesn't stop Main from wanting to read books, so she makes a decision…
"If there aren't any books, I'll just create some."
Main might not have energy or money, but she has an endless amount of knowledge from all the books she read in her previous life. Will Main actually be able to make some books? Main's adventure to create books starts now.[3]
Episodes
Season 1
Season 2
Videos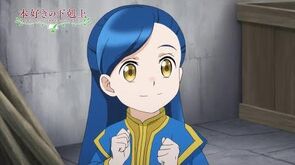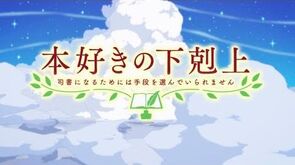 Cast and Staff
Main staff
Director: Mitsuru Hongo (Crayon Shin-chan, Outlaw Star)
Sub director: Yoshiki Kawasaki
Series composition: Mariko Kunisawa (Hatsukoi Limited, Magimoji Rurumo)
Character design: Yoshiaki Yanagida (Tribe Cool Crew), Toshihisa Kaiya (IGPX -Immortal Grand Prix-)
Anime production: Ajia-do (Izetta: The Last Witch, How Not to Summon a Demon Lord)

Main voice cast:
References
Community content is available under
CC-BY-SA
unless otherwise noted.