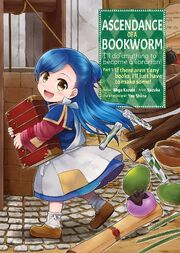 Ascendance of a Bookworm (本好きの下剋上~司書になるためには手段を選んでいられません~ Honzuki no Gekokujō ~Shisho ni Naru Tame niwa Shudan o Erandeiraremasen~), also known as Honzuki no Gekokujō (本好きの下剋上), is a Japanese fantasy light novel series written by Miya Kazuki and illustrated by You Shiina. The series has also been released as a manga and has an anime series animated by Ajia-Do.
The story centers around Urano Motosu, a young Japanese soon-to-be librarian who dies in an earthquake buried underneath her beloved books. Luckily, she gets reincarnated in another world as the young daughter of a commoner family. When she awakens as Myne she learns that books are scarce and only obtainable by rich people, mostly nobles. Myne (retaining her memories from her previous life) decides to create and print her own books so that she can read again.
Achievements
The number of sold volumes reached 4 million including electronical version
Results of the "Kono Light Novel ga sugoi!" Rankings
The Kono Light Novel ga sugoi! magazine counts its volumes using the number of the following year. So 2021 show results collected in 2020.
2021
1st place in the Josei category
2nd place in the Tankoubon category
2nd place Ferdinand in the male character category
3rd place Rozemyne in the female character category
9th place You Shiina in the illustrator category