Welcome

Welcome to the Ascendance of a Bookworm Wiki, this wiki is dedicated to everything related to the Ascendance of a Bookworm series that anyone can edit. Please help by editing or adding articles and lessening the stubs. We currently have 24,048 edits to 898 articles and 1,652 images on this wiki since March 8, 2019.
This Wiki contains unmarked spoilers. Read at your own risk.
New Pages • New Photos • Help Pages • Characters • Novel • Manga • Anime
Synopsis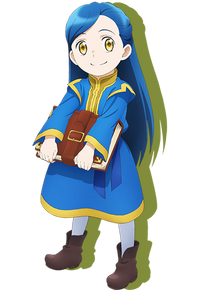 The story follows Motosu Urano, a book-loving post-secondary student and soon-to-be librarian who ends up crushed to death beneath a pile of books during an earthquake. With her dying breath, she wishes to be reincarnated in a world where she can read books forever. Urano awakens in the body of a weak, five-year-old girl named Myne in a world where books are scarce and only available to elites. Myne, retaining her memories from her previous life, decides to create and print her own books so that she can read again.
Latest Releases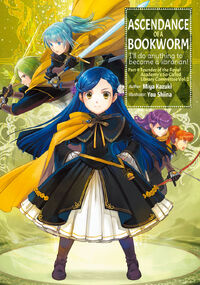 Released 2021, September 1st
Released 2021, May 12
Myne narrowly escapes death thanks to a magic tool, only to be told that she has just one year left to live at most. She decides to spend her remaining time with her family, concluding that she would rather die with them than sign her life away to a noble. Meanwhile, Lutz fights back against his parents, steeling his resolve to become a merchant no matter what. Together, they plan to continue making paper up until their baptism ceremony, but they are soon called over by Freida to talk about the Devouring. This is a biblio-fantasy by bookworms, for bookworms! Part 1 concludes with this volume.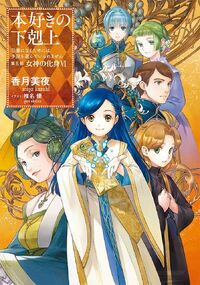 Released August 10, 2021
Released 2020, October 1
Contribute
We need help with...
Don't see the page that you're looking for? Then use the box below to create it!