This Article is based on the Official Translations of the Light Novel series!
The Light Novel series is the source material for the adaptation of the Anime and Manga series. The information and terminology on the article will be based on the source material rather than the adaptions.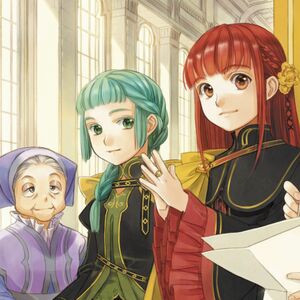 Attendant (側仕え, sobatsukae) is one of three main occupations held by nobles in Yurgenschmidt, along with knight and scholar. Despite having the same title and similar duties, noble attendants are not considered to be the same as gray priest attendants or commoner servants.
See also Character List: Attendants.
Duties
An attendant's main duties include:
Service: Attendants serve food, help dress and undress their lord or lady, prepare baths, provide massages, and ensure their surroundings are tidy.
Fashion: An attendant is expected to understand the current fashions and trends and advise their lord or lady accordingly. They may also assist in selecting clothing and accessories.
Communication: When a noble needs to schedule a meeting or send a message to another noble, they will typically arrange it through their attendants. Asking directly is considered rude.
Unlike knights or scholars, attendants only serve masters of the same gender due to the nature of their work[1]. They also work primarily as retainers, and do not hold independent positions. As a result, they are more likely to move to a new lord or lady when the need arises.
Education
Attendants must attend the Royal Academy and graduate from the attendant's course, which begins in the third year. Prior to that, all first years take the same introductory classes. During the Interduchy Tournament, apprentice attendants are responsible for showing hospitality to their duchy's guests[2]. Most apprentice attendants also gain experience by serving as a retainer to a higher-ranking noble or a member of their own family.
References
Navigation | May contain spoilers