This Article is based on the Official Translations of the Light Novel series!
The Light Novel series is the source material for the adaptation of the Anime and Manga series. The information and terminology on the article will be based on the source material rather than the adaptions.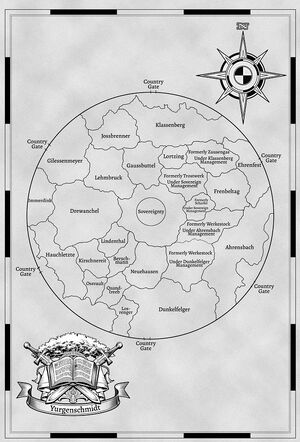 The Duchy of Berschmann is a region in the southwestern parts of the kingdom of Yurgenschmidt.
Overview
The territory is bordered by the following other territories:
The Sovereignty to the Northeast
The duchy of Lindenthal to the Northwest
The duchy of Kirschnereit to the West
The duchy of Quaandtreeb to the South
The duchy of Neuhausen to the Southeast
Berschmann's duchy colour is purple[1].
Etymology
Name
Japanese
Romaji
Assumed
Etymology
Assumed
Translation
Berschmann
References
Additional References
Navigation | May contain spoilers