This Article is based on the Official Translations of the Light Novel series!
The Light Novel series is the source material for the adaptation of the Anime and Manga series. The information and terminology on the article will be based on the source material rather than the adaptions.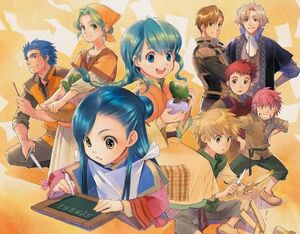 Commoners (平民, heimin) make up one of the main social classes in Yurgenschmidt, along with clergy and nobles. Although commoners represent by far the majority of the population, they hold the lowest status.
Class Distinctions
Because there are relatively few nobles compared to commoners, and because nobles rarely venture into neighborhoods or districts, many commoners can go their entire lives without seeing a noble in person. That is usually in their best interest: Nobles exercise absolute authority over commoners, and can easily punish or execute those who inconvenience them.
A key differentiating factor between commoners and nobles is that most commoners do not possess mana. The few commoners who do often suffer greatly as a result: Because they have no magic tools to drain excess mana, they develop symptoms of the Devouring and usually die at a young age. Very few commoners are aware that the Devouring is related to mana at all.
In rural provinces, nobles and commoners have a much closer relationship. For example, Brigitte is accustomed to eating side-by-side with commoners in her home province of Illgner, something that would be considered unthinkable in a city like Ehrenfest.
Commoners who live in cities look down on traveling merchants, who do not have citizenship and are not recognized as formal members of society. They also are contemptuous of gray priests, whom they view as unwanted orphans who went to the temple as a last resort.
Lifestyle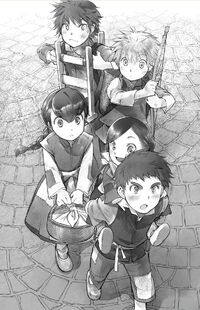 Poor commoners do not receive a formal education, and those from craftsmen or soldier families may never learn to read or write. Instead, unbaptized children often go to forage for firewood and food in the woods, help their families around the house, make handiwork that can be sold for extra income, and learn skills like carpentry and sewing. The children of wealthy merchants may receive tutoring at home and are likely to learn how to read, write, and do math.
After baptism at age seven, commoner children begin their apprenticeship as either a Lehange or a Leherl apprentice. At first, they work only a few days out of the week and spend the rest of the day helping their family at home, and gradually increase their workload as they get older.
When a commoner comes of age at 15, they become a full-fledged worker and are no longer considered an apprentice. Most commoners also get married and start a family within a few years of becoming an adult.
Marriage
Among commoners the vast majority of marriages are arranged by the parents with the aim to secure a good life for their children. Even when people can decide their partner for themselves, they will often choose practicality over romance, since life is often too harsh for commoners to afford such luxuries.
For more details on the wedding ceremonies see Commoner Starbinding.
Occupations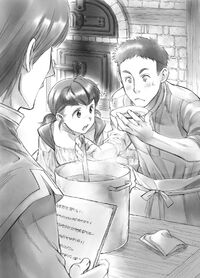 Common occupations for commoners include:
References
Additional References
Navigation | May contain spoilers