This Article is based on the Official Translations of the Light Novel series!
The Light Novel series is the source material for the adaptation of the Anime and Manga series. The information and terminology on the article will be based on the source material rather than the adaptions.
The culinary tradition of Ehrenfest includes many dishes and ingredients that resemble familiar Earth cuisine, such as sausages, bread, tea, and soup. However, it also includes a range of ingredients, recipes, and cooking techniques that are unique to Yurgenschmidt.
Usinger her memories from her past life as Urano, Myne was able to recreate or adapt many of the recipes she knew on earth to create new foods in Ehrenfest. From there, many of her recipes were later redeveloped and expanded upon by the chefs who learned them, like Hugo, Ella, and Leise.
For Myne's non-culinary inventions, see Inventions.
Savory Dishes
Buchlette
Buchlette (ブーフレット, buufuretto) is a commoners' dish made by mixing buckwheat flour with water and salt to make batter, which they then cook with ham and cheese. It is similar to a real-world savory galette[1].
Capellini
Capellini is based on the real-world dish of the same name. It is made by chopping plain pasta as thinly as possible, then making a sauce with pome and a mild, mozzarella-like cheese. To emulate basil pesto, plant oil is mixed with salt and either herbs or rigars[2].
Caprese Salad
Caprese salad is a salad made with pome, cheese and seasonal herbs. When Myne originally taught this recipe to her personal chef Hugo, she suggested slicing and layering the pome and cheese. However, he later adapted the dish by filling a hollowed-out pome with a cheese-and-herb filling. The new version is harder to eat without making a mess, but improves the overall flavor of the dish[3].
Carbonara
Carbonara is a pasta dish based on the real-world dish of the same name. Thin, spaghetti-like noodles are served with a sauce made from pome and minced meat, then topped with cheese. Leise created a variation of this recipe that uses egg yolks, thick cream, and consommé as additional ingredients in the sauce, which she garnishes with diced bacon[3].
Consommé
Consommé is a type of clear soup based on the real-world dish of the same name. It is made by repeatedly clarifying fat and sediment from richly flavored broth, resulting in a strong umami taste that evokes meat, vegetables and herbs. Because it requires constant simmering and stirring, the soup takes a long time to prepare. Consommé is Ferdinand's favorite dish at the Italian Restaurant.
Cottage Cheese
Cottage cheese is a commoners' dish made by adding vinegar to cow's milk. It is popular with families like Myne's that don't have ready access to milk, since it requires much less milk to make than fermented natural cheese[4].
Fallold Tart
Fallold tart is a new sweet developed by Nicola[5]. It features the raspberry-like fallold fruit as a primary ingredient, making it a summer dish.
Fluffy Bread
Fluffy bread is made using natural yeast.
Grilled Consommé Vegetables
Grilled consommé vegetables are a dish invented by Leise. Seasonal vegetables are first cooked in consommé until the soup's taste has soaked into the vegetables and then they are grilled. This results in a rich taste and a pleasant crunchy-on-the-outside, soft-on-the-inside texture[3].
Hamburg Steak
Hamburg steak is based on the real-world dish of the same name. Minced meat is shaped into a burger with cheese at the center, then cooked in consommé. It is served with a topping of diced peeled pome, which is also cooked in consommé[6].
Macaroni Gratin
Macaroni gratin is based on the real-world dish of the same name. Farfalle pasta and white sauce are combined in small ceramic bowls and topped with cheese, then cooked in an oven until bubbling and browned.[6]
Osso Buco
Osso buco is a veal dish based on the real-world dish of the same name. The thigh meat of a calf, including the bone, is braised and served in a sauce made from pome, vize and other vegetables. Myne's original recipe from Earth was later improved upon by Leise[3].
Parue-Burger
Parue-burgers, or "not-quite okara hamburgers," are one of Myne's recipes made with parue pulp, along with parue okonomiyaki and parue cakes. After shaping the parue pulp into a burger-like shape, Myne makes a sauce using the tomato-like pome fruit and covers it with a layer of cheese. Although the parue-burger is more savory than the parue cake, the combination of flavors still brings out a gentle sweetness[7].
Parue Okonomiyaki
Parue okonomiyaki, or savory parue pancakes, are modeled after real-world Japanese okonomiyaki with the addition of melted cheese[8]. To make it, parue pulp and grated cheese are mixed together in a bowl. Then parue oil, salt, and basil-like chopped lage leaves are added to the batter. Then the batter is poured into a heated pan and cooked until the cheese is crunchy. Myne also recommends adding chopped-up ham and vegetables. Parue okonomiyaki are not to be confused with sweet parue cakes or parue-burgers.
Pizza
Pizza is based on the real-world dish of the same name. To approximate the taste, Myne made a recipe using dough leavened by natural yeast, a sauce made of tomato-like pome fruits, and available types of cheese. Because pome are yellow, not red, this dish looks slightly different from traditional pizza. Making a pizza requires access to an oven.
Potatoffel Salad
Potatoffel salad (カルフェサラダ, karufe sarada)[9], also called (ポテトサラダ, poteto sarada), contains boiled crushed potatoffels mixed with vegetables and mayonnaise.
Quiche
Quiche resembles the real-world dish of the same name. It is a savory pastry made with egg custard as a primary ingredient.
Steamed Potatoffel
Steamed potatoffels are served hot and cut open, with a pat of butter on top. Myne used these as rewards for the gray priests who worked the hardest on cleaning the orphanage.
Steamed Taschitz
Taschnitz is an edible fowl. It is considered a delicacy even among nobility, to the point that poorer laynobles may only eat it on special occasions. The meat is steamed until tender enough to melt in the mouth. It may be served with boiled vargel with butter cream[10].
Sweet Dishes
Cookies
Cookies resemble the real-world sweets of the same name. While cookies are common in Ehrenfest, Myne introduces new flavors and types of cookies, such as those made with tea leaves. The are usually baked in an oven, but if none is available a skilled chef can also make them in a pan.
Langues De Chat
A specific type of cookie she introduces initially to Elvira and Lamprecht are langues de chat ("cat tongue" in English), and to which Lamprecht takes an immediate liking too[11]. Traditionally they are simple oblong oval shaped cookie, though in Japanese the term generally refers to a square thin sandwich cookie.
Fallold Honey Pie
Fallold honey pies are traditional sweets among the nobility of Ehrenfest. They are made with honey-soaked fallold filling and are very delicate. If cut into the wrong way, they will fall apart and start to look unappealing. Rather than seeing this as a detriment, nobles often use fallold honey pies to show off their refinement and the skill of their attendants; a well-raised noble knows how to skillfully cut the pie without damaging its beauty[12].
Honeyed Fruit
Honeyed fruit is a dish popular some parts of Yurgenschmidt. Highly acidic fruits (such as lemons) are steeped in honey and preserved for the winter. The principle is similar to that of Myne's rumtopf, but uses sugar instead of alcohol[13].
Ice Cream
Ice cream is a frozen dessert resembling the real-world dish of the same name.
Libra Cake
Mille Crêpe
Mille crepe is a pile of crepes which have cream in between each crepe. It can be served with a variety of fillings and sauces, like an orange sauce made by cooking apfelsige juice and sugar.
Later Rozemyne strikes upon the idea of improving the taste of crepes even further by mixing parue juice into the batter. Naturally this is a seasonal variant, since parue trees only grow in the winter and their juice quickly goes bad[14].
Like pound cake, they can be adapted to a variety of tastes by using different creams or toppings.
When Rozemyne introduced them at a tea party at the Royal Academy they were a great hit with the ladies of the top 6 duchies of the country. Unlike pound cake they not only received high marks on their taste and adaptability with different toppings, but were also paised for their appearance[15].
Panna Cotta
Panna cotta is a sweet dessert based on the real-world dish of the same name. It requires gelatin to make. Rozemyne gifted the recipe to the Othmar Company for how well they managed the Italian Restaurant during her sleep and for Leise's continued enthusiasm in improving and inventing new recipes[3].
Parue Cake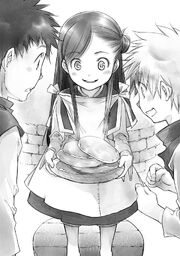 Parue Cakes, or "Simple Okara Pancakes," are made from the pulp of parue fruits after they've been drained and pressed for oil. Although most commoners only use the pulp for bird-feed, Myne observed that it had a similar texture to okara (soy pulp) used in Japanese cooking[16].
To make it, she mixes the pulp with about two teaspoons worth of parue juice, which is milky and sweet. She then adds two eggs and some milk and mixes it into a batter, which she fries like a pancake in a hot buttered pan, flipping halfway through. The resulting parue cake is fluffy and sweet, even without the addition of jam or other sweeteners.
Myne later brings the recipe to the orphanage, where it becomes a favorite winter treat[17]. Parue cakes are a distinct dish from parue-burgers, which are a savory food made with pome sauce and cheese.
Pound Cake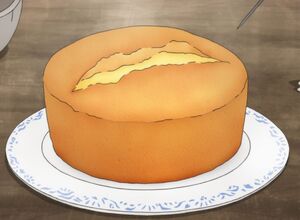 Pound Cake (カトルカール, katorukaaru) also called "quatre-quarts," is a simple confectionary that consists of equal parts butter, flour, milk and sugar baked in an oven. The dish is easy to adapt by incorporating seasonal fruit, liquor, or herbs into the batter, and the finished cake can be further customized with different creams and toppings.
After Myne shares the basic recipe with Freida and Leise, pound cake quickly catches on. She also suggests different ways to add flavor, such as by mixing in dried fruit, tea leaves, or the zest of the citrus-like apfelsiege. Leise later develops additional flavors and recipes.
In order to appeal to a wide variety of palates at tea parties, Rozemyne serves plain pound cake with a choice of toppings, so that each guest can choose whichever flavor they prefer. These toppings include cream, honey, rutreb jam and rumtopf[18]. Pound cake made with honey or rutreb jam appear to be received more favourably among noblewomen and those from the Sovereignty, while Prince Anastasius seems to favour the stronger flavor of rumptopf pound cake[19].
Because pound cake requires both access to an oven and a large amount of sugar, it is considered a luxury dessert for very wealthy commoners and nobles. However, its unremarkable appearance and relatively unsweet flavor make it seem "rustic" to high-ranking nobles in the Sovereignty and greater duchies. Prince Anastatius even went so far as to call it a "poverty dish". To make the dish appear more elegant, Rozemyne suggests serving small cubes of cake in delicate dishware.
As Rozemyne makes contacts in other duchies, she also tries to get access to more fruits and ingredients that can be used for dishes. As such she was able to come up with a recipy for a pound cake incorporating Dunkelfelger's rohres soaked in wine, which was very well received by both Aub Dunkelfelger and his daughter Lady Hannelore[20].
Pudding
Pudding is a sweet, custard-based dessert resembling the real-world dish of the same name.
Rohres in honey-cream
Rohres is a sweet stemming from Dunkelfelger. It consists of the same grape-like fruit from which Vize is made, but dried and served with a honey-flavoured sauce resembling yoghurt. The fruits and sauce have a natural, mild sweetness. When served in the Sovereignty it is further sweetened up with large amounts of sugar[21].
Rumtopf
Rumtopf is a sweet dessert made with preserved fruit. First, the fruits (such as rutrebs, prehres, or prunbeers) are coated in sugar to draw out their moisture. Then, the sugared fruits are sealed in a jar filled with distilled alcohol and left to ferment for approximately half a year. Rumtopf is best made in summer, so that the fruit will be ready to eat in the middle of winter. The preserved fruit can be used as ingredients for other dishes like pound cake or crêpes, or eaten plain.
Shortcake
Shortcake is based on the real-world dish of the same name, and is usually topped with whipped cream and seasonal fruits. It requires carefully controlled heat while baking, which can make it difficult to prepare.
At the Italian Restaurant, shortcake is served with wine-soaked prunbeer, arranged in a flower pattern[3].
Drinks
Fallold Drink
Fallold drink is made from the diluted juice of the fallold fruit, sweetened with honey[22].
Vize
Vize is a high-quality and expensive wine produced in Dunkelfelger[3].
Ingredients and Condiments
In Ehrenfest, a range of common ingredients are available, including eggs, milk, buckwheat flour, mushrooms and many common types of meat. There are also many fruits and vegetables unique to the local area, many of which resemble real-world ingredients like garlic or strawberries.
Compote
Like the one known on earth. Used as topping for other sweets like mille crêpe. It can be made in different flavours, depending on the fruit used to make it.
Cream
Like the one known on earth. Used as topping for other sweets like mille crêpe. It can be made with tanieh for a chestnut-like flavor.
Gelatin
Gelatin can be made by the same process that stands at the beginning of making hide glue (and, in fact, the two can be made at the same time). The clearest parts are cut away, simmered for a long time like consommé. After all the scum and scraps are removed, the mixture is strained. It can be used as an ingredient for a variety of dishes, including various sweets and panna cotta[3].
Herb Dressing
Herb dressing contains plant oil, salt, citrus fruits and herbs. The flavour may change depending on the specific ingredients used.
Mayonnaise
Mayonnaise (マヨネーズ, Mayoneezu)[9] is like the real-world condiment of the same name.
Natural Yeast
Natural yeast is a fungus used to make leavened bread and other dough, like that used in pizza. Until Myne introduced it, yeast was not commonly used for baking in Ehrenfest.
Pasta
Pasta is based on the real-world food of the same name. It is made by kneading flour and water (and optionally eggs or oil) into an elastic dough, which can then be rolled or cut to shape.
Rumtopf Topping
Rumtopf can also be used a topping for other confectioneries, such as pound cake.
Rutreb Jam
Rutreb jam is made from the red rutreb fruit that resembles strawberries.
Salt
Salt is commonly used for flavor and as a preservative. The majority of Ehrenfest's salt is extracted from fruits[23].
Sugar
Sugar does not naturally grow in Yurgenschmidt. Imports from another country have only started quite recently, which is why only few recipes exist that make use of it. Nevertheless it has quickly gained popularity among the rich and powerful who have both money to afford it and the necessary connections to get any[24].
Spoiler from Part 4 Volume 8
Poudered Sugar
Powdered Sugar - like it's Earth counterpart - is sugar crushed into a fine powder used to top sweet dishes with a tasty and nice-looking layer of sweetness. Rozemyne's cooks have not yet been able to make it quite as fine as the ones she remembers from Earth[20].
Vegetable Broth
Vegetable broth is made by boiling vegetables in water and preserving the leftover liquid, used to give soup a richer flavor[26]. In Ehrenfest, most people believe that the water in which vegetables are cooked can cause illness, miscarriages and infertility[27], but Myne, understanding that it is perfectly safe to use if you wash and peel the vegetables properly beforehand, teaches her family and chefs how to use it in broth.
White Sauce
White sauce is made with butter, milk, flour and salt.
Dishes from Spoiler Content
Spoiler from Part 4 Volume 8
Bavarois
Bavarois is a sweet dish based on a traditional bavarian sweet also known as Bavarian Cream from Earth[28].
Zanbelzuppe
Zanbelzuppe is a traditional Ahrensbach fish soup similar in appearance to Earth's Bouillabaisse, but with a yellow instead of a red colour. Due to this recipy throwing out the broth like old traditional Ehrenfest soups, it has barely any taste compared to the method of making soup pioneered by Myne, though Lady Rozemyne is determined to make improvements to it[29].
Fikken
Fikken is a traditional Ahrensbach fish dish. Thinly sliced pieces of fish are seasoned - among other things with rigar - dredged in flour and pan-fried in butter, reminiscent of Earth's Meuniére[29].
References
Additional References
Navigation | May contain spoilers