This Article is based on the Official Translations of the Light Novel series!
The Light Novel series is the source material for the adaptation of the Anime and Manga series. The information and terminology on the article will be based on the source material rather than the adaptions.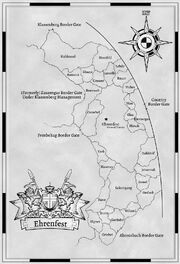 Dahldolf (ダールドルフ, Daarudorufu) is a southeastern province in the duchy of Ehrenfest in the kingdom of Yurgenschmidt.
Overview
Dahldolf is a province located on the eastern border of Ehrenfest. It is governed by the mednoble Dahldolf family, which is closely allied with the Veronica faction. When Veronica was in power, their good relationship with her brought great prosperity to Dahldolf.
The current giebe is Viscount Dahldolf. His heir is Jeremias, the son of his previous first wife, who passed away shortly after the civil war. After her death, his second wife Gloria rose to the position of first wife and took the title "Viscountess Dahldolf"[1].
Borders
Province of Kirnberger to the north.
Ehrenfest Central District to the northwest.
Province of Joisontak to the south.
Unnamed other country to the east (inaccessible).
History
The son of Viscount Dahldolf and his second wife Gloria, Shikikoza, was sent to the temple to become a blue priest due to his low mana capacity. He was recalled to his family after the civil war due to the mana shortage, and was young enough that he could obtain a schtappe at the Royal Academy and become accepted as a full noble.
Story
Shortly after graduating, Shikikoza goes into service with the Knight's Order and was assigned to guard Myne during the trombe extermination mission. His hatred for commoners and his failure to follow orders led to near-disaster on the mission, and he was sentenced to death.
The giebe's family would normally have been executed in a collective punishment for their son's actions; however, Sylvester offers clemency on the condition that they sign a magic contract swearing never to approach Myne again. Viscount Dahldolf willingly signs the contract and also pays a "hefty fee," which covers half the cost of Myne's replacement ceremonial robes.
While the Viscount considers this a fair trade for his family's safety and future, his wife Gloria continues to bear a strong grudge against Myne.
Trivia
The original etymology of "Dahldolf" may have come from "Dorf," the German word for "village".
References
Navigation | May contain spoilers