"To the Second Winter" (二度目の冬に向けて, Futatabi-me no Fuyu ni Mukete) is the tenth episode of the Ascendance of a Bookworm anime series. It originally aired on December 5, 2019.
This episode was adapted from Part 1 Volume 2 of the Light Novel series (Chapter 16: Winter Handiwork - Chapter 21: Myne Collapses).
Summary
One year has passed since Myne's awakening in the new world. As Freida warned, her fever seems to be growing stronger. Although Myne tries to "shove it in a box" and keep her feelings under control, she still becomes ill more often than before.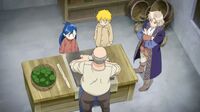 As winter approaches, Benno assigns Lutz and Myne to improve their manners, their appearance, and their reading and writing skills. He also asks for Myne's help troubleshooting the production method of the shampoo. Benno and Myne negotiate a deal for any information she can provide about the shampoo. He offers her two small golds, but she negotiates for three. He allows it, telling her to make and save as much money as she can to treat her Devouring. Benno becomes suspicious that Myne is not the person she seems to be, but he doesn't press the issue when she's reluctant to explain. They also agree to call the product "AIO Shampoo" instead.
Tuuli and Effa are startled when Myne explains they have to ramp up production of their hair ornaments, but they're highly motivated when she promises them a bonus of two medium bronzes for each one. She later advises Lutz to do the same to encourage his brothers to help out.
Gunther takes Myne to the gate. While she's there, an alert comes in for a trombe. She and Lutz go to collect trombe wood from the site and use it to make more paper. As they finish, Myne develops a sudden fever, even though she isn't feeling anxious or upset. She admits to Lutz that it's flaring up more often than before, and as he gives her a piggyback ride home, he breaks down into tears.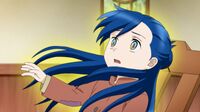 They meet with Benno to discuss product ideas. Lutz resolves to help Myne make all of her product ideas to save money and find a way for her to survive. However, just as they optimistically make plans for spring, Myne collapses with a dangerous fever. Benno calls for a carriage to take her to the Guildmaster's house.
Characters by Appearance
Soundtrack
Navigation | May contain spoilers