"Life-or-Death Choices and Family Meetings" (究極の選択と家族会議, Kyuukyoku no Sentaku to Kazoku Kaigi) is the eleventh episode of the Ascendance of a Bookworm anime series. It originally aired on December 12, 2019.
This episode was adapted from Part 1 Volume 3 of the Light Novel series (Prologue - Chapter 6: Completion of My Outfit and Hairpin).
Summary
Myne awakens in Freida's bed with a shattered magic tool bracelet on her wrist. It reduced the symptoms of the Devouring by drawing off excess mana, but eventually broke when it reached capacity and can no longer be used. It is estimated that Myne has less than a year before her fever once again overwhelms her.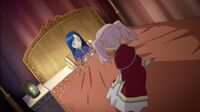 Freida tells her that the only way for her to live a long life is by making a contract with a noble to become a mistress in exchange for access to magic tools, and explains that she has already signed a contract to move to the Noble's Quarter when she comes of age. If Myne chooses to remain with her family, she is certain to die soon.
Myne pays the Guildmaster for the magic tool used to treat her illness. He's disappointed, since he planned to use her debt to force her to join the Othmar Company as an apprentice merchant, but accepts the payment.
Myne and Lutz develop the idea of selling games for commoner families to play during the winter when they're stuck inside.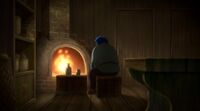 Myne's family is deeply relieved that she recovered, believing that her illness has been permanently cured. However, after finishing her baptism outfit, she calls a family and explains her true circumstances. She admits that she is likely to die soon, but tells them she would rather die with her loved ones than live a long life alone in the Noble's Quarter.
Characters by Appearance
Soundtrack
Navigation | May contain spoilers