"Baptism and Divine Paradises" (洗礼式と神の楽園, Senrei-shiki to Kami no Rakuen) is the twelfth episode of the Ascendance of a Bookworm anime series. It originally aired on December 19, 2019.
This episode was adapted from Part 1 Volume 3 of the Light Novel series (Chapter 8: Otto's Counseling Room - Chapter 19: Gated Paradise).
Summary
Myne begins to make plans under the assumption that she will die before the next winter. She decides not to take an apprenticeship with the Gilberta Company, since she is too frail to handle the usual work of an apprentice merchant. She also sells the paper-making rights to Benno, while Lutz retains sales rights.
When Freida next encounters Myne, she is surprised at her decision to remain with her family at the cost of her life. However, she purchases several of Myne's dessert recipes and pays her fairly, since Myne plans to save as much money as she can and leave it behind for her family.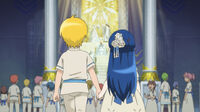 Summer baptism arrives and both Myne and Lutz turn seven. She wears Tuuli's modified dress and a brand-new flower hair ornament to the ceremony, earning high praise from the neighbors. Benno also attends the baptism to watch Lutz and Myne.
When they enter the church, Myne is excited to see the High Priest reading out of a heavy book of scriptures. However, she can't help but burst into laughter when she realizes the religious prayer pose of this world resembles the "Glico" pose she remembers from Japan. The priests mistake her trembling with laughter for illness and escort her to a waiting room to recover.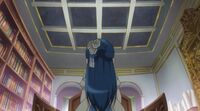 Myne looks around the temple, trying to find her way back to the main hall. As she explores, she discovers a small book room filled with scrolls and documents and attempts to rush in, but realizes too late that the room is restricted to members of the clergy, and a magic barrier prevents her from passing.
Eagerly, she asks to become an apprentice priestess to be able to read the books at the temple. The gray priestess she meets takes her to meet the senior authority in the temple, the High Priest. Mistaking her for the daughter of a wealthy family, he explains that he can permit her to join the temple in exchange for a sizeable donation.
Characters by Appearance
Soundtrack
Navigation | May contain spoilers