"The Choice to be an Apprentice Priestess" (巫女見習いという選択肢, Miko Minarai to iu Sentakushi) is the thirteenth episode of the Ascendance of a Bookworm anime series. It originally aired on December 26, 2019.
This episode was adapted from Part 1 Volume 3 of the Light Novel series (Chapter 20: Rejection and Persuasion - Chapter 23: Strategy Meeting and the Temple).
Summary
Myne recovers in the cathedral's waiting room, and Lutz comes to check on her. He's exasperated to find that the reason for her collapse was getting overexcited about books, and hurries her to go back home before she does anything else reckless.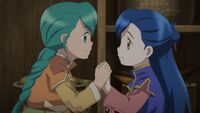 At dinner, Myne asks her family for permission to become an apprentice priestess, her father strictly refuses. He explains that the only commoners who join the church are unwanted orphans, that the life of a gray priestess is brutally demanding, and that she probably would be separated from her family. Myne is heartbroken to be forbidden after at last finding a place she can read books, but eventually agrees to give her refusal. However, the heated conversation causes her to develop a fever.
Lutz escorts Myne back to the cathedral several days later after she has recovered. There, she encounters the Head Priest, the second-highest authority in the church under the High Priest. He is assigned to read to her out of the scriptures, but she asks to be able to read the book herself as well. He allows it on the condition that she doesn't touch the pages. She is overjoyed and quickly learns several words, impressing the Head Priest.
When she explains that she can't join the church because she has the Devouring and is very frail, the Head Priest fetches the cathedral's sacred grail to check her mana capacity. Satisfied with the results, they tell Myne to bring her parents back with her for a secondary discussion.
Myne and Lutz later meet with Benno, who scolds her for her thoughtlessness. He tells her that the church sees her as a valuable source of mana due to the recent shortage, and that that she is likely to be forced into the church. He warns her to take all possible precautions to negotiate for better treatment and secure access to her friends and family. Myne is surprised by how much Benno cares about her wellbeing, and Mark informs her that Benno sees her as a daughter.
At his suggestion, she agrees to sign a magic contract with Lutz that guarantees exclusive sales rights to him and only him, allowing her to contact him in an emergency. She worries that it will put him in danger, but he tells her he's ready to take the risk.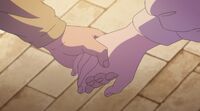 After that, they go to the merchant's guild to register her workshop as the Myne Studio. While there, she talks to Freida and suggests she refine her pound cake recipe by hosting a tasting event. Lutz and Myne then walk home together. He says he's hurt that she can't uphold their promise to make and sell books together, but she promises that they'll still work together even after she joins the church. He agrees with a smile.
Characters by Appearance
Soundtrack
Translation Notes
This episode of the anime uses several anime-specific translations:
Navigation | May contain spoilers