"Conclusions" (決着, Kecchaku) is the fourteenth episode of the Ascendance of a Bookworm anime series and the final episode of Season 1. It originally aired on December 26, 2019.
This episode was adapted from Part 1 Volume 3 of the Light Novel series (Chapter 23: Strategy Meetings and the Temple - Chapter 24: Confrontation).
Summary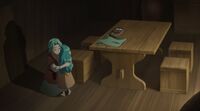 Myne tells her parents and her sister about the letter of invitation she was given, which calls them to the cathedral in two days. She explains that entering the temple under the right conditions could allow her to treat the symptoms of her Devouring by giving mana to the church. Gunther agrees that it's a good plan to ensure her survival, but Tuuli is very worried about trying to negotiate her treatment with nobles.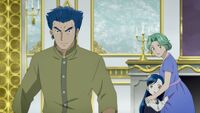 Myne, Gunther, and Effa go to the temple to meet the High Priest and discuss terms. However, as soon as he realizes that her family is not wealthy or educated, he begins treating them arrogantly and demands that Myne be taken from him by force. Her father fights back to protect her.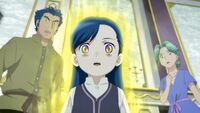 When the High Priest threatens her family's execution, Myne loses her temper and her control of her mana. She chokes the High Priest and nearly kills hem before the Head Priest intervenes to stop her.
With the High Priest unconscious, the Head Priest sits down with Myne and her family, apologizes for their previous treatment, and negotiates with them properly to settle Myne's conditions for entering the temple. He asks her to join the temple as a request, not an order, and Myne agrees.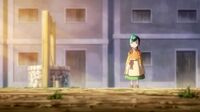 When Effa, Gunther and Myne return home, Tuuli and Lutz waiting outside for them. Lutz assures her that Myne will be okay, and as the sun sets they see their family returning safe. Myne runs to Tuuli and gives her a hug.
Characters by Appearance
Soundtrack
Translation Notes
This episode uses the following anime-specific translations:
Navigation | May contain spoilers