"Apprentice Priestess" (神殿の巫女見習い, Shinden no Miko Minarai) is the fifteenth episode of the Ascendance of a Bookworm anime series, and the first episode of Season 2. It originally aired on April 5, 2020.
This episode was adapted from Part 2 Volume 1 of the Light Novel series (Prologue - Chapter 1: Attendants and the Fealty Ceremony).
Summary
Myne is eager to join the cathedral as an apprentice blue-robed priestess, but she has to wait several weeks while preparations are made. In the meantime, she visits the Gilberta Company, where Lutz has begun working as a lehange apprentice. Under Mark's tutelage, he practices welcoming customers to the store and using formal manners.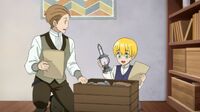 She tells Benno about her successful negotiations for joining the church: She'll be allowed to live at home, rest when she's ill, and continue running her studio. Her duties will be to serve as a custodian of the library and magical artifacts at the cathedral. Benno comments that the Head Priest seems like someone she can rely on for help.
On her way back downtown, Myne meets Lutz's mother Karla and tells her how hard her is working at his new apprenticeship. However, she keeps her own plans to join the church secret. Instead, she shares the cover story that she will continue working as Otto's assistant and helping her mother around the house. Karla also mentions that a man was asking questions about her downtown.
Gunther and Otto go out for drinks, where they celebrate the pregancy of his wife, Corinna, and discuss his plans to retire from his career as a soldier. Otto explains the Gilberta Company is so busy selling Myne's products that they need him to help out with the business, and jokingly calls Myne "Benno's Flutrane".
Gunther admits that he's very worried about Myne's treatment after she joins the cathedral. Otto tells him that the gods made him a soldier for a reason. Myne's wealth, mana and ideas put her at a high risk for being abducted or kidnapped, but as a gatekeeper, Gunther is in an ideal position to protect his family. In the corner of the bar, Justus overhears their conversation.
When Myne tells Benno the rumors about a man investigating her downtown, he guesses that it's the same person who broke into the merchant's guild a few days before. After that, Tuuli, Effa, and Myne go to show Corinna her altered baptismal dress and gain her insight on the new hair ornament, and then sell Benno the rights to produce hair ornaments.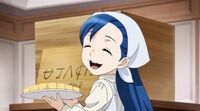 Later, Benno goes to Freida's pound cake tasting event, where Myne is helping out as a waitress. He scolds her for being reckless when he's busy trying to suppress information about her, and complains that she sold the recipe for pound cake to Freida instead of him. Myne points out that he's been ripping her off for new product ideas, and says that it would be useless to give him recipes when he doesn't have sugar, a highly trained chef, or access to a professional oven. With a sense of rivalry, Benno decides he'll just train his own chefs to be able to make the recipes.
The next day, the Head Priest reports to the High Priest about Myne's background and activities, advising him to allow her to continue her business. He also explains his plans to assign of his retainers to Myne. To his dismay, the High Priest responds by spitefully assigning her one of his own retainers, as well as the biggest troublemaker in the orphanage.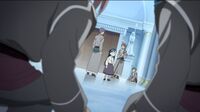 When Myne and Lutz walk to the cathedral, they are formally greeted at the gate by Fran. Lutz bursts into laughter at hearing him call her "Lady Myne," and they part ways. Myne apologizes to Fran, but he coldly tells her there is no need. As he escorts her to see the Head Priest, Myne struggles to keep up with his quick walking pace. They also pass a blue-robed priest, who scornfully calls Myne a commoner. The gray-robed priests and priestesses also seem resentful of her.
The Head Priest guides Myne through her oath-taking ceremony and gives her a set of blue robes to wear at the cathedral. He then introduces her to her new retainers: Fran, Delia, and Gil, scolding her to maintain the attitude and formality expected of her position.
As soon as the Head Priest leaves the room, Gil begins arguing with her, while Delia admits she only took the position as a way to worm her way into the High Priest's favor and become his concubine. Fran impatiently tells Myne that it's her duty to discipline her retainers. Myne threatens to replace them, but her words leave no impression at all. She wonders how she's supposed to adjust to her new and unfamiliar life as a priestess.
Characters by Appearance
Promotional Videos
The first footage from the second season: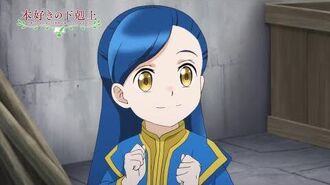 Navigation | May contain spoilers