"Blue Robes and Uncommon Sense" (青い衣と異なる常識, Aoi Koromo to Kotonaru Joushiki) is the sixteenth episode of the Ascendance of a Bookworm anime series, and the second episode of Season 2. It originally aired on April 12, 2020.
This episode was adapted from Part 2 Volume 1 of the Light Novel series (Chapter 2: A Shrine Maiden's Job - Chapter 5: The Meeting Begins).
Summary
On Myne's first day at the cathedral, the Head Priest briefs her on the duties expected of her, including helping him with paperwork as his assistant. He shows her how to dedicate mana using the church's shield of Schutzaria, and she feels much lighter and more comfortable after giving away some of her mana.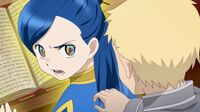 As soon as the meeting is over, Myne eagerly makes for the cathedral library while her new retainers Delia, Gil and Fran butt heads. She decides to ignore them, and settles down to read blissfully. Gil tries to rouse her from her book to go eat lunch, but she tells him to eat without her. When he insists, she unleashes her mana on him and Fran hurriedly clears the room.
After spending the whole day reading, Myne meets Lutz at the gate and heads to the Gilberta Company to talk to Benno about bringing her donation to the temple. Her retainers expect to come along with her and are startled when she tells them to stay behind. Gil runs off, saying that he wants to go get food. Myne asks Delia to let the Head Priest know about their impending donation, forcing Fran to stay behind to make sure the message actually gets delivered.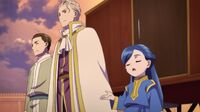 Benno is furious that she walked from the temple in her blue robes, putting her at risk of being mistaken for a noble and kidnapped. While she's there, seeing Lutz work so hard to succeed at his merchant apprenticeship makes her realize that she needs to put more effort into her own work as an apprentice priestess. Myne says she told the Head Priest they'd bring the donation to the cathedral as soon as it was ready, not realizing that it would be understood as "we'll bring it at once." Benno and Mark rush to get ready, and they arrive at the cathedral in formal clothing.
Myne begins using formal language to talk to Fran, and notices that he seems to warm up to her. As they walk to the Head Priest's office, Benno warns Fran that he's walking too fast for Myne to keep up, and he agrees after a moment of surprise.
When they deliver the donation, the Head Priest asks Benno about Myne's character and personality. Benno says carefully that she's "magnanimous ... or at least, indifferent" as long as no one tries to harm her loved ones or her books. Benno also warns that she's extremely sickly, causing the Head Priest to instruct Fran to learn how to manage her health.
The Head Priest asks about the rumors that Myne is Benno's "Flutrane" — a common colloquialism for "lover" — causing him to spit out his tea in dismay. He assures him that Myne is merely his protégé, and Mark explains that in this context, "Flutrane" just means someone who brings new ideas and profit.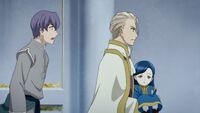 Just as they settle on the church getting 10% of the profits from Myne's business ventures, she collapses suddenly. Ferdinand scolds her for losing her composure, but Benno stiffly informs him that she falls ill often and begs to be excused. As Benno carries her out of the temple, Fran chases after them. He apologizes to Myne for not serving her well, explaining that he'd felt hurt that the Head Priest had cast him aside. She assures him that his former master values his service, and promises to do her best for him.
Meanwhile, Delia reports to the High Priest and is rewarded with food. Gil goes to the orphanage to ask for something to eat, but they turn him away, saying that it's his master's job to feed him now.
Characters by Appearance
Translation Notes
This episode uses the following anime-specific translations:
Navigation | May contain spoilers