"Needs" (与えるべきもの, Ataerubeki Mono) is the seventeenth episode of the Ascendance of a Bookworm anime series, and the third episode of Season 2. It originally aired on April 19, 2020.
This episode was adapted from Part 2 Volume 1 of the Light Novel series (Chapter 6: Buying Secondhand Clothes - Chapter 11: Delia's Job).
Summary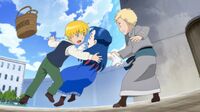 When Lutz drops off Myne at the cathedral gate, they are met by her three retainers. While Fran greets her warmly, Gil is still resentful of her and Delia runs off to the High Priest at her first opportunity. Angry at being ignored, Gil grabs Myne's shoulder and she falls over. In response, Lutz immediately tackles him and starts shouting at him.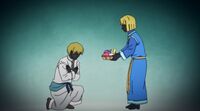 However, Fran tells Myne that violence is prohibited in the cathedral, and she asks Lutz to stop. When he does, Gil angrily says that Myne has failed him as a master by not providing for his daily needs, including his food and housing. While Fran and Delia have food and shelter from the Head Priest and High Priest respectively, Gil has no one to help him. Myne is startled to realize that she'd overlooked something so important and promises to take responsibility.
Myne heads to the Head Priest's office to help him with his paperwork, and scandalizes him by changing into his blue robes in his office. She says she'd happily change elsewhere if he'd give her somewhere to do it. The gray priest Arno suggests she take the orphanage director's office, which is currently empty, and the Head Priest agrees.
Myne tells Gil that he can go ahead of them and start cleaning up in exchange for some food. The others are dubious of her trusting him with such an important job, but she says it's an important opportunity to prove himself. The idea of compensation is novel to Gil, but he agrees to try his best, and he has the bedroom immaculately clean by the time Myne arrives. She pats his head and praises him, and Gil is moved to tears.
The High Priest is furious when he finds out that Myne was given the orphanage director's office, and especially angry at Delia for failing to inform him. He throws her out of his chambers in disgust.
Myne gives Fran and Gil town clothing so they can join her when she walks downtown. They grab lunch at a street vendor. Myne and Lutz are bemused by Gil and Fran's unusal habits, such as saying grace and waiting until those of higher status finish eating to begin a meal. Gil is taken aback by how differently things work downtown compared to in the cathedral, and he apologizes for mocking Myne before.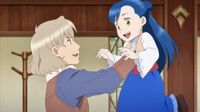 Benno is ecstatic to learn that Myne now has an oven thanks to moving in to the orphanage director's chambers. He sends his two cooks, Hugo and Ella to practice cooking at the cathedral, and joins Myne for lunch to taste-test their new recipes. The food turns out to be delicious.
Just then, Delia bursts in and accuses Myne of getting her in trouble with the High Priest. Gil tells her that "she who does not work, neither shall she eat." Delia, who is used to being asked to entertain male guests, tries to flirt with Benno, but he pushes her away. Desperate not to go back to the orphanage, she begs Myne to give her some work to do. Myne agrees to provide for her as long as she does her job.
Characters by Appearance
Navigation | May contain spoilers