"Orphanage Reforms" (孤児院の大改革, Koji'in no Dai-kaikaku) is the eighteenth episode of the Ascendance of a Bookworm anime series, and the fourth episode of Season 2. It originally aired on April 26, 2020.
This episode was adapted from Part 2 Volume 1 of the Light Novel series (Chapter 12: The Reality of the Orphanage - Chapter 14: Secret Talk With the High Priest).
Summary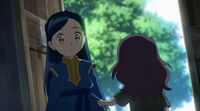 One day, Myne asks Gil to guide her to the orphanage area of the cathedral so she can see it for herself. However, they arrive at a locked underground bunker to see many of the children malnourished. Myne learns that the cathedral dismissed the previous priestess of the orphanage, forcing the children to exist aimlessly and starving, surviving off the leftovers Gil provides them. Though she wants to help, she doesn't have the funds or means to do so, nor the church's approval.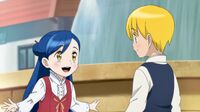 Later that day, Myne and Fran meet with Lutz and discuss the problem, only for Lutz to come up with the idea to turn the orphanage into a working branch of their paper-making studio.
With Benno's advice, Myne arranges a meeting with the High Priest to become the orphanage director and to set up her studio for the orphans. However, he begins by reprimanding her for her lack of noble decorum and to be wary of retainers and other blue robed priests who are loyal to the High Bishop. He then accepts her request to be orphanage director before revealing that he, like Myne, joined the church later in life for personal reasons. With the support of her retainers, Myne heads over to the orphanage and officially begins her role as director.
Characters by Appearance
Navigation | May contain spoilers