"Cleanups and Star Festivals" (大掃除と星祭り, Daisouji to Hoshimatsuri) is the nineteenth episode of the Ascendance of a Bookworm anime series, and the fifth episode of Season 2. It originally aired on May 3, 2020.
This episode was adapted from Part 2 Volume 1 of the Light Novel series (Chapter 15: Cleaning Up the Orphanage - Chapter 20: After the Festival).
Summary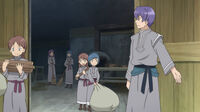 Under the leadership of Myne, Fran, and Gil, the orphanage is rebuilt and establishes of rule of rewarding those who work. The children go forging for paper supplies in the forest with Gunther and Lutz, and are rewarded by Myne for their productivity and hard work. Myne's three retainers are gifted slates and pencils to practice their writing while the rest of the children were given flashcards to play with made of the wood they collected in the forest, which Benno quickly buys the rights to.
While on a walk with Lutz, Myne learns that Lutz and his brother Seig have grown distant, and that the annual Star Festival is approaching, though Myne is curious if the orphans are able to attend. When she asks the High Priest about this, he informs her that the temple is open to the townspeople during the festival and that the orphans would normally be kept quiet, but allows them to partake in the town's festivities of throwing fruit at each other within the temple grounds as long as they don't cause any problems.
When the day of the ceremony arrives, however, the fruit that was collected suddenly turns into a pod of trombe sprouts when touched by Myne. Lutz and the orphans quickly slay the predatory plant, then proceed to throw the fruit at one another to celebrate. At the end of the day, Myne ends up sick and is carried home by Fran. When she returns to the temple, the High Priest reveals that the temple grounds required some repair from the celebration and that he knew of the trombe attack, forcing Myne into detention for breaking her promise, though Fran's protest fell on deaf ears.
At the end of the day, Myne ends up sick again, causing the High Priest to realize that Fran was protesting out of safety for Myne's health and begins to regret his punishment to Myne due to her frailty.
Characters by Appearance
Navigation | May contain spoilers