"The Path Ahead of Lutz" (ルッツの行く道, Ruttsu no iku Michi) is the twentieth episode of the Ascendance of a Bookworm anime series, and the sixth episode of Season 2. It originally aired on May 10, 2020.
This episode was adapted from Part 2 Volume 1 of the Light Novel series (Chapter 21: Lutz's Path Through Life - Chapter 24: Family Meeting at the Temple).
Summary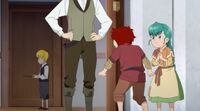 After being refused permission to travel with Benno to another town for work, Lutz runs away from home, cuts off all contact with his family, and starts living in the attic of Benno's shop. His brother Ralph goes after him to tell him to come home, but he ends up causing a scene. The same thing happens Lutz's mother tries to come bring him home, and the other Gilberta Company apprentices begin to get frustrated with Lutz and his relatives.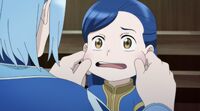 After Myne recovers from her illness, she goes to the office and discovers that Benno is considering adopting Lutz as his son so that he can devote his life to the business. At the temple, she struggles to focus on her accounting work with the Head Priest, so she relays the details to him about what's been going on.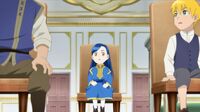 After giving it some thought, he proposes to bring Lutz's parents to the cathedral so they can sign away Lutz for adoption. All parties involved are brought before the Head Priest for discussions, including Lutz, his parents, and Benno.
The talks take a turn and it is revealed that Lutz's parents actually supported his choices, even though it was against their wishes, and only want him to be safe and to grow up strong. Lutz apologizes for everything and Benno decides to swap his adoption idea to instead change Lutz's contract to a leherl contract and raise him as his successor in the Merchant Guild, to which everyone agrees.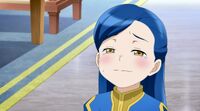 Lutz reunites with his family while Myne cries tears of joy for everything turning out well. The Head Priest offers her his handkerchief, and she finds out from the embroidery on its hem that his real name is Ferdinand.
Characters by Appearance
Navigation | May contain spoilers