"New Retainers" (新しい側仕え, Atarashii Sobadzukae) is the twenty-first episode of the Ascendance of a Bookworm anime series, and the seventh episode of Season 2. It originally aired on May 17, 2020.
This episode was adapted from Part 2 Volume 2 of the Light Novel series (Prologue - Chapter 3: An Attendant's Job).
Summary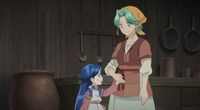 Myne learns that her mother, Effa, is pregnant, so she wants to create a picture book for the new baby as a gift. She asks Ferdinand to let her take Wilma, an artistically talented gray priestess, as her retainer to help her make the art.
However, Ferdinand says she should instead focus on learning important noble graces like playing the stringed instrument harspiel. He explains that, because mana is typically inherited from the mother's side of the family, she will be targeted by nobles for her high mana capacity as soon as she comes of age. Learning how to behave like a noblewoman is her best defense in securing a better match and better treatment.
Fran recommends the gray priestess Rosina, a gifted musician who studied under Christine, to be her harspiel tutor. Ferdinand then shows Myne how to play the first few notes on the instrument and is surprised when she picks it up quickly.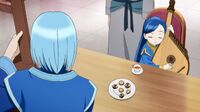 Rosina enters Myne's service. However, it soon becomes apparent that she expects to have a privileged position as a music tutor, rather than sharing in the daily work of Myne's other retainers. When Delia angrily asks Myne to do something about it, Myne holds a meeting to discuss the problem and decide how to move forward.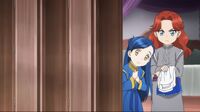 Myne gives Rosina the ultimatum of working and serving or returning to the orphanage, and she decides to stay and work while still teaching Myne music. For the next ten days, Myne rushes to master her first song on the harspiel in preparation for Ferdinand's review. Thanks to Rosina's help, she passes the test with flying colors.
Later, Rosina explains to Myne that that Wilma was once taken advantage of by a blue priest. The traumatic experience left her uncomfortable around adult men, which is why she prefers not to leave the girls' wing of the orphanage.
Characters by Appearance
Navigation | May contain spoilers