"Wilma and Holy Scriptures for Kids" (ヴィルマと子供用聖典, Viruma to Kodomo-you Seiten) is the twenty-second episode of the Ascendance of a Bookworm anime series, and the eighth episode of Season 2. It originally aired on May 24, 2020.
This episode was adapted from Part 2 Volume 2 of the Light Novel series (Chapter 4: The Italian Restaurant's Interior Decoration - Chapter 12: Binding Children's Bibles).
Summary
Myne decides to create a children's version of the church's holy scriptures so that both her upcoming newborn sibling and the orphans can read it. However, she runs into an obstacle when she realizes ink is both expensive and in short supply. Instead, she decides to make her own using oil and soot from the town's fireplaces.
When Ferdinand approves of her plan, Myne asks Wilma to draw the illustrations for the picture book, which she then carves into a wooden block and uses as a base for printing. However, the detailed art doesn't translate well to the page.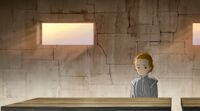 Meanwhile, Wilma is struggling to reconcile her fear of men and her interest in the printing process. She accidentally lashes out at an orphan boy when asked to come see the studio that finalizes her drawings. Myne decides to use stencil printing instead of woodblock printing. She asks Wilma to work on simplifying her design and later the orphans tell her Wilma's recent odd behavior.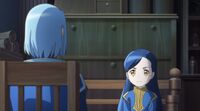 Myne asks Ferdinand to read through her manuscript for the children's bible to make sure the content is okay to print. When he reads it, he immediately becomes suspicious of how easily she was able to synopsize the complicated language of the scriptures into accessible, kid-friendly prose. He calls her to his hidden room and asks about her education and where she got her ideas. Myne replies that she can only say she saw it in a world of dreams to which she can never return.
Wilma finishes the picture. To Myne's surprise, she to join them in the studio to see the book completed, as well as to help conquer her fear of men. Together, the gray priests and orphans print, dry, fold and assemble the books, and Myne brings it home to Tuuli who puts the finishing touches on it by binding all the pages together. Finally, two years after arriving in the new world, Myne has created her first book.
Characters by Appearance
Navigation | May contain spoilers