This Article is based on the Anime!
The Anime is an adaptation based off the Light Novel and Manga and might contain different terminology from the source material.
"Harvest Festivals and Staying Home" (収穫祭のお留守番, Shuukaku-sai no Orusuban) is the twenty-third episode of the Ascendance of a Bookworm anime series, and the ninth episode of Season 2. It originally aired on May 31, 2020.
This episode was adapted from Part 2 Volume 2 of the Light Novel series (Chapter 13: Missing the Harvest Festival - Chapter 17: A Discussion About Winter Preparations).

Summary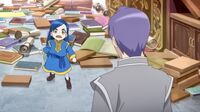 While en route to the library, Myne encounters a blue-robed priest loyal to the High Priest. Myne peacefully steps aside in order to avoid conflict. However, when she arrives at the library she is infuriated to find that it has been ransacked, and she guesses that the blue priest was to blame.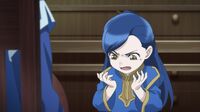 Fran drags Myne unwillingly to Ferdinand's office to consult with him before she does anything rash. She is determined to get vengeance for the harm done to her library, but cheers up when she realizes that this is an opportunity to reinvent her own library classification system and put all the books in a logical order. She and her retainers go back to the library and begin using a modified version of the Nippon Decimal Classification System to sort the books by genre and subject matter.
When they're finished sorting all the books, the shelf she set aside for books on magic remains empty. She asks Ferdinand about it, and he brings her to his hidden room where he presses her about the organization system she used. She tells him about Melville Dewey and the Dewey Decimal System, perplexing Ferdinand who has never heard of either. He then explains that magic books are the exclusive domain of nobles who have graduated from the Royal Academy. Myne is dismayed to learn that, a mere blue priestess, she is not allowed to read them.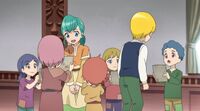 Lutz and Tuuli visit the orphanage and help teach the orphans how to make books. Later, Myne and Lutz bring one of the first copies of the children's bible to Benno, who immediately wants to begin to sell them for profit, but Myne refuses since she wants to create actual literature books to sell, but doesn't have the right tools yet. As the winter months approach, Myne intends to work from home and create accessories for the orphanage, but Ferdinand reveals that the annual temple Dedication Ceremony occurs during winter and requires a vast amount of mana to complete. As such, he denies her request to live at home and orders her to stay at the temple.
She also brings him a copy of her newly printed book. Ferdinand, who for the first time understands what printing means and the impact it is likely to have on society, reflects on the danger Myne could present if allowed to continue unchecked.
Characters by Appearance
Navigation | May contain spoilers