"Knight Orders and Requests" (騎士団からの要請, Kishi-dan kara no Yousei) is the twenty-fourth episode of the Ascendance of a Bookworm anime series, and the tenth episode of Season 2. It originally aired on June 7, 2020.
Thie episode was adapted from Part 2 Volume 2 of the Light Novel series (Chapter 17: A Discussion About Winter Preparations - Chapter 22: Trombe Extermination).
Summary
Though Ferdinand holds firm on requiring Myne to stay at the temple, he offers the concession that her family can come visit to check on her. Myne tells her family about her required stay at the temple over winter, only for them to react poorly, particularly Gunther. He and the rest of the family eventually concedes after Myne explains that the only reason she's alive is because of the temple taking her in, and follows it with her responsibilities for the children of the orphanage.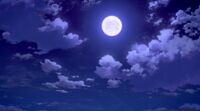 While preparing for a new picture book at the temple, Fran informs Myne that she needs to prepare for the Knights' Order, a group from the Noble's Quarter of Ehrenfest, by memorizing the necessary prayers and completing her ceremonial robes. During a meeting with a newly returned Ferdinand from the Harvest Festival, he suddenly receives a message that the Knights' Order requires immediate assistance with a raid and a blessing.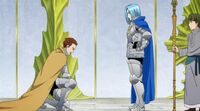 Once dressed, Myne meets with a Ferdinand, who is dressed in knight's armor to fight alongside the Knight's Order. He gives her a magic ring, and they pass through the main gate of the cathedral to the to the Noble's Quarter.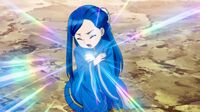 Greeted by the Knights' Order captain, Karstedt, the group fly away to take on a massive rampaging trombe. Myne is given two guards, Damuel and Shikikoza, to protect her as she prays for the knight's safety. As they fly off to battle, Shikikoza suddenly mocks Myne's prayer as useless and sneers at her.
Characters by Appearance
Navigation | May contain spoilers