This Article is based on the Anime!
The Anime is an adaptation based off the Light Novel and Manga and might contain different terminology from the source material.
"Trombe and Battles" (トロンベ討伐, Toronbe Toubatsu) is the twenty-fifth episode of the Ascendance of a Bookworm anime series, and the eleventh episode of Season 2. It originally aired on June 14, 2020.
This episode was adapted from Part 2 Volume 2 of the Light Novel series (Chapter 22: Trombe Extermination - Chapter 23: Rescue and Reprimand).
Summary
Shikikoza criticizes Myne for wasting her mana on a useless blessing, but Damuel comforts her by saying that her prayer will aid in the battle. Determined not to cause a stir, Myne apologizes to Shikikoza and he lets it go.
The Knight Order begin their assault on the trombe, using mana-infused weapons to inflict heavy damage, Damuel explains how the weapons work, and admires Ferdinand's skill in combat. He says that he wishes Ferdinand could rejoin the Knight Order, but then apologizes for saying so and asks Myne to keep it to herself.
As the battle turns in the knights' favor, Shikikoza reprimands Damuel for being so friendly with a commoner. Damuel is shocked to learn that the blue shrine maiden he's been talking to is a commoner. Although Myne tries to apologize, Shikikoza grabs her hair and then threatens to gouge out her eyes with a knife. Both Damuel and Fran attempt to intervene, but Damuel is forced to stand down due to his lower rank.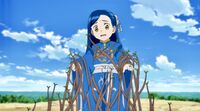 Seeing Ferdinand in the sky behind Shikikoza, Myne calls out for help,icausing him to accidentally cut her with his blade. When her blood hits the ground, a second trombe appears and wraps itself around her. Fran rushes to her aid, and Damuel begins trying to cast a blessing on his weapon to save her. As Myne struggles, she calls out to Lutz. While working at his apprentice job across the city, he has a vision of her struggling.
Ferdinand arrives, but his weapons have no effect on the trombe because her blood is feeding the plant's growth. He dismisses his weapon, heals her wound, and has the rest of the knights chop down the plant without harming Myne. He then gives her a recovery potion to regain her lost mana.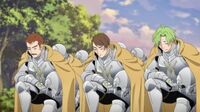 An open interrogation occurs to figure out what happened. Shikikoza refuses to defend himself, saying there is no need for a noble to justify his treatment of a commoner. Damuel hesitates to give his testimony, since Shikikoza outranks him. However, Myne asks Ferdinand and Karstedt if they can guarantee her safety if she provides honest testimony. Damuel apologizes for failing to help her.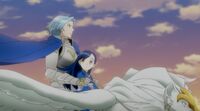 As the highest-ranking knight present, Ferdinand issues his verdict. He says that everyone must remember their place in society, and that by failing to protect Myne as ordered, the knights defied the will of the lord of Ehrenfest himself. As the Knight Commander, Karstedt is also held responsible for their failure. As they fly to the center of the crater, Ferdinand asks Myne to put her full power into the ritual and says he has a plan to set her up for success.
Characters by Appearance
Translation Notes
This episode of the anime uses several anime-specific translations:
Navigation | May contain spoilers