"The Events of Winter" (冬のできごと, Fuyu no Dekigoto) is the third episode of the Ascendance of a Bookworm anime series. It originally aired on October 17, 2019.
This episode was adapted from Part 1 Volume 1 of the Light Novel series (Chapter 11: Beaten by Ancient Egyptians - Chapter 14: Tuuli's Hair Ornament).
Summary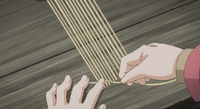 Two months have passed since Urano's memories awoke in Myne, and a harsh winter is underway in Ehrenfest. She and her family spend the season working on winter handiwork, including sewing and basket-making. Myne tries to use reed fibers to make papyrus, but even with Tuuli's help, the work progresses far too slowly. After three days, she gives up and decides to make clay tablets in the spring instead.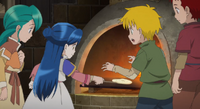 Tuuli brings home parues, a winter fruit, and the girls work together to harvest the sweet-tasting juice. Myne is surprised to learn that the parue's soy-like pulp is usually discarded as animal feed. When Lutz and Ralph come to buy some of the extra feed, Myne uses it to make delicious paruecakes. The boys are delighted, since their family usually goes hungry over the winter. Lutz tells her that he'll lend her a hand whenever she needs help in the future.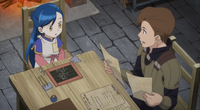 Myne runs out of pencils for her stone slate and asks to go back to visit Otto at the gate to get more. Jealous of her admiration for Otto, Gunther tells her that she can't go visit him until spring. However, he has no choice but to take her with him to the gate when both Tuuli and Effa leave to harvest parues the next day. While she practices the alphabet, she notices an error in Otto's accounting and corrects him. He asks her to help him with his paperwork, and she agrees in exchange for an unlimited supply of slate pencils and more reading lessons.
At home, Myne talks her father into making her a crochet hook to make a decorative flower hair ornament to complete Tuuli's baptism outfit. Her sister is delighted with the gift.
Characters by Appearance
Gallery
See Gallery
Soundtrack
Trivia
Navigation | May contain spoilers