"Forests and Clay Tablets" (初めての森と粘土板, Hajimete no Mori to Nendoban) is the fourth episode of the Ascendance of a Bookworm anime series. It originally aired on October 24, 2019.
This episode was adapted from Part 1 Volume 1 of the Light Novel series (Chapter 15: Bring Me to the Forest - Chapter 17: Clay Tablets Won't Work).
Summary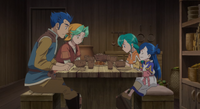 As spring arrives, Myne announces her plans to go to the forest and make clay tablets, much to her family's dismay. Her father tells her to focus on building up her stamina and improving her health, and forbids her to go foraging until he is satisfied with her progress. In the meantime, he suggests she begin working as Otto's unofficial assistant in hopes of eventually becoming a clerk.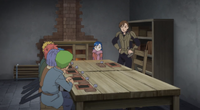 For several weeks, Myne walks to and from the city gate each day with Lutz and Tuuli, works as Otto's assistant, and continues learning to read and write with the apprentice soldiers. Just as she becomes able to walk to the forest without tiring out, she falls ill with a fever and doesn't recover until the end of spring.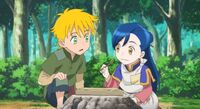 Myne's father permits her to go with the other children when she is feeling better, but makes her promise to spend the day resting in the forest instead of foraging. Unwilling to delay her plans further, she secretly brings a trowel with her and begins digging for clay. Lutz catches her doing it and loses his temper, accusing her of making a promise she never intended to keep. Nevertheless, he helps her dig up clay and shape it into tablets. As they wait for the tablets to dry, Myne explains the concept of reading and books to Lutz.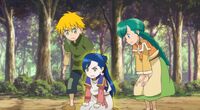 To her horror, Fey and another neighborhood boy stomp on the clay tablets, unaware of their importance. She loses her temper and her eyes change color, frightening Fey and alarming Lutz and Tuuli. Lutz calms her down and promises her that they'll all work together to make new tablets. However, it rains for the next several days and the tablets are once again ruined. As Myne cries in disappointment, Lutz comforts her and helps her make a third set of tablets. While they work, he asks her about her plans for the future. She tells him she wants to live a life surrounded by books, and he admits that his own dream is to become a traveling trader.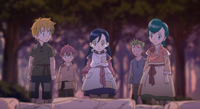 Finally the third set of tablets are finished, and Myne reflects on how far she's come. She resolves to write down all the stories her mother told her and keep them with her forever. However, when she puts the clay tablets in her family's clay oven to bake them, they crumble and explode.
Characters by Appearance
Soundtrack
Navigation | May contain spoilers