"Baptisms and Strange Fevers" (洗礼式と不思議な熱, Senrei-shiki to Fushigi na Netsu) is the fifth episode of the Ascendance of a Bookworm anime series. It originally aired on October 31, 2019.
This episode was adapted from Part 1 Volume 1 of the Light Novel series (Chapter 18: Tuuli's Baptism - Chapter 23: The Road to a Meeting).
Summary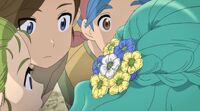 Summer arrives, and Tuuli, who is turning seven this season, prepares for her baptism. She uses shampoo and wears the hair ornament her sister made her, which draws attention and compliments from their neighbors. (Myne and Lutz, who were also born in summer, are now six years old.)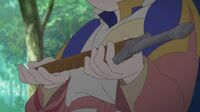 Myne and Gunther leave the baptism early to hurry to the city gate. While her father and Otto are in a meeting, Myne helps a soldier read an important letter from a nobleman, advises him on how best to handle the situation and alerts Otto after his meeting is over. At dinner, Gunther gives Myne a knife and tells her that it's her duty to collect firewood for the family now. She eagerly decides to use the knife to make a scroll out of wood tablets (mokkan).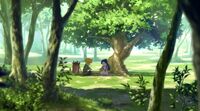 Lutz sees her at work, guesses that she's working on a replacement for her clay tablets, and offers to help. In exchange, he asks her to introduce him to Otto so he can get advice on how to become a traveling trader. Otto tells Myne that becoming a traveling trader isn't something a city child should aspire to, but he agrees to meet Lutz and tell him that in person. She also asks him to pay her in ink instead of slate pencils, but he tells her she'd have to work for free for three years to pay for it. Instead, Myne gathers soot from her family oven and mixes it with clay to make a crayon.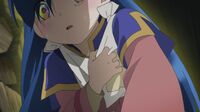 However, when she returns home, she finds out that her mother used her clay tablets as firewood. Distraught, Myne's eyes once again change color, and she collapses with a dangerously high fever. Lutz encourages her not to give up and brings her a less flammable kind of wood; however, her mother accidentally burns those as well. Myne gives into her frustration and despair, and her fever intensifies. However, as she remembers Lutz's encouragement and the promise she made him, she feels inspired to keep trying. Her fever goes down, leaving her wondering what kind of illness she has.
When she returns to the gate, she and Otto reschedule their meeting. She also asks how he would go about making something after several failed attempts, and he advises her to hire someone to make it, and find an investor to fund the concept.
Characters by Appearance
Soundtrack
Navigation | May contain spoilers