"Meeting" (会合, Kaigou) is the sixth episode of the Ascendance of a Bookworm anime series. It originally aired on November 7, 2019.
This episode was adapted from Part 1 Volume 1 of the Light Novel series (Chapter 23: The Road to a Meeting - Chapter 24: Meeting with the Merchant) and Part 1 Volume 2 (Chapter 1: The Road to Washi - Chapter 3: Summons from Benno).
Summary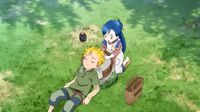 Myne determinedly prepares Lutz for his meeting with Otto, washing his hair with shampoo and advising him to wear his best clothes to make a good first impression. To her surprise, Otto brings along his brother-in-law, the merchant Benno. He immediately notices her glossy hair and and hair stick, and asks to take a closer look at it. When he inquires about her shampoo, however, she tells him that the details are confidential.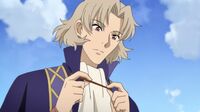 Otto tells Lutz that becoming a traveling trader is a foolish idea and suggests that they become merchant apprentices instead. Benno asks the two children what they plan to achieve as merchants, and Lutz eventually arrives at his new goal: to make all Myne's ideas become a reality. Meanwhile, Myne explains that while her best-case scenario is to become a librarian, her backup plan is to make and sell paper made from plants. She says she can have a prototype ready by their baptism next summer, in about one year, and Benno agrees to take them on as apprentice merchants if they succeed.
Delighted, the two children get ready to leave; however, Myne hurries back when she remembers she wanted to ask Otto and Benno whether they know of any illness that causes sudden fevers. Both of them tell her that they don't. Privately, Benno guesses that it may be the Devouring, a lethal illness.
Myne and Lutz begin trying to make paper using the washi method, which she remembers from her life as Urano. She strikes up a deal with Otto to trade him some of her shampoo in exchange for nails, so she can make the equipment they need to get started. She goes with him to meet his wife Corinna and help her wash her hair, and is impressed at the wealthy neighborhood they live in. While Myne is there, Corinna asks her if Otto seems happy at work and whether he seems to miss his life as a merchant. She assures her that he's quite contented with his current lifestyle. Both Otto and Corinna are highly pleased at the results of the shampoo; Otto hurriedly pays Myne her nails and sends her on her way.
Later, Lutz confesses that he's not sure his family will allow him to become an apprentice merchant, since they're all craftsmen and distrust merchants. When they return from the woods, Otto meets them at the city gate and gives them an invitation from Benno, asking them to join him for a meeting.
Characters by Appearance
Soundtrack
Navigation | May contain spoilers