"Seeds of Suspicion" (不信感の芽生え, Fushinkan no Mebae) is the seventh episode of the Ascendance of a Bookworm anime series. It originally aired on November 14, 2019.
This episode was adapted from Part 1 Volume 2 of the Light Novel series (Chapter 3: Summons from Benno - Chapter 5: Lutz's Most Important Job).
Summary
Lutz and Myne meet Benno for lunch at the Gilberta Company, which turns out to be the same place Myne went when she met Corinna. He scolds the children for going to Otto, not him, for supplies for their paper prototype. He explains that they should come to him first, since the Gilberta Company plans to claim sales rights for the paper they produce. Myne bows in apology, perplexing Benno who isn't familiar with the gesture.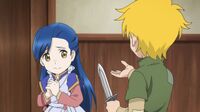 Benno tells them he'll fund all the supplies for their prototype in exchange for the recipe for shampoo, and that once the plant paper is developed, they'll receive ten percent of the profits added to their pay as royalties. However, Myne says she wants to retain the production rights to paper and give Lutz exclusive sales rights, to ensure that they won't be fired immediately after joining. Benno has them secure the deal using contract magic.
Lutz is surprised and wary of how comfortable Myne seems during the negotiations, easily understanding the concept of collateral and doing math without an abacus. On their way home, he asks her: "Are you the real Myne?" She deflects his questions, and he apologizes for acting strange. However, he still seems bothered, and Myne worries that he'll stop being her friend if he finds out the truth.
She wants to finish her dealings with Benno while Lutz isn't watching, to avoid arousing his suspicions. However, she faints on the way to visit the lumber workers with Mark. When she recovers at the Gilberta Company store, Benno strictly orders her to go straight home and recover, and forbids her to come to the store without bringing Lutz to keep an eye on her.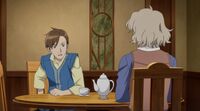 In private, he says that he is now certain that she has the Devouring, a disease afflicting commoner children who are born with mana. Unless she treats her illness with expensive magic items, she will soon die.
When they meet again, Lutz confesses that he was upset at seeing Myne handle everything alone, saying he felt unneeded. He assures her that he doesn't hate her. However, he no longer refers to her as "Myne". They go to the Gilberta Company together, and Benno assigns Lutz to look after Myne as his number one priority. He also gives them a studio near the south gate of the city.
Characters by Appearance
Soundtrack
Navigation | May contain spoilers