"The Guild Master's Granddaughter" (ギルド長の孫娘, Girudo-chou no Magomusume) is the ninth episode of the Ascendance of a Bookworm anime series. It originally aired on November 28, 2019.
This episode was adapted from Part 1 Volume 2 of the Light Novel series (Chapter 11: The Merchants' Guild - Chapter 15: Delivering the Hair Ornaments).
Summary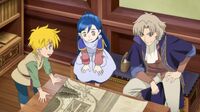 Benno pays Myne and Lutz for their prototype. When Myne shows him the flower hair ornament she made for Tuuli, he asks the children to go with him to the merchant's guild to register for temporary guild cards, which will allow them to do business before their baptism. While they wait to meet the Guildmaster, Myne sees a file cabinet with documents and scrolls on it. She finds a map of the city of Ehrenfest, and Benno helps her learn more about the area.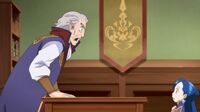 The Guildmaster isn't inclined to give them temporary guild cards, but is swayed when Benno has Myne show him the hair ornament. It turns out that he has been eagerly searching for the craftsman of the hair ornament so he can commission a baptism accessory for his granddaughter Freida. He approves their registration and orders a hair ornament from Myne. She suggests that they consult with his granddaughter first to make sure it matches her outfit.
Myne is proud to bring home some of the profits from her prototype paper, and her family enthusiastically praises her for her hard work. Lutz's family, however, is still upset that he plans to become a merchant.
Lutz and Myne meet with Freida at the Othmar Company to examine the prototype. She shows them her outfit and they pick out a color scheme, select thread, and agree on pricing. Myne points out that she'll need two ornaments for her two ponytails. Freida insists that she'll pay for both, but Myne wants to give it to her for free in exchange for the thread. Lutz suggests they give her the second hair ornament for half price as a compromise. Freida tries to recruit Myne to the Othmar Company, but she braces herself and manages to firmly refuse.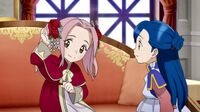 One month later, the hair ornaments are completed and Myne delivers them to Freida. As they talk, Myne explains that she's naturally frail, and Freida asks if she has the Devouring, the same illness she herself has. She says that the Devouring can't be cured, only controlled using expensive magic tools.
Characters by Appearance
Soundtrack
Navigation | May contain spoilers