Feystones (魔石, maseki) are gemstones that consist of crystalized mana.
In their natural state, feystones can be used to channel and store mana. Alternatively, they can be processed to create potions and magic tools. Special types of feystones can be used for transportation and communication.
Overview
When a being - be it plant or animal - that can wield mana dies, its mana gathers in a single spot, crystalizes and turns into a gem-like object. Depending on which mana-source was turned into a feystone, their specific characteristics can differ.
Different stones can be used to drain, transfer and store mana[1], can be turned into magical objects via a spell like a Highbeast[2] or Ordonanz or be used to create magic tools.
Feystones can differ drastically in size from those similar to pebbles to others larger than a watermelon, thought he latter seem to be very rare[3]. How much mana can be contained in a feystone depends on both the size and the quality of the stone.
Usage
Highbeast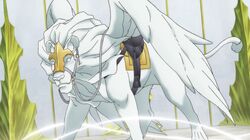 By dyeing a specially prepared feystone with one's own mana, it can be morphed into the shape of an animal, that will move according to the user's will and fly through the air. The changes are according to the user's imagination. Nobles generally change it into a mount reminding of animals like pegasus', griffins or some other animal with wings[4]. A few of the more eccentric individuals also use feybeasts like shumil[4] or Bahelm[5] with wings as their mount.

Since the banner animal of Ehrenfest is the Lion, only members of the archduke's family are allowed to model their highbeast after the regal animals. Generally the Archduke's family created winged but otherwise regular lions, with the Aub using a three-headed one[2].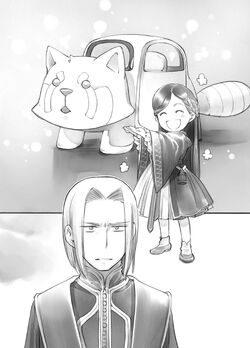 Despite what many nobles believe, the wings are not actually part of the mechanics that lift a highbeast into the air. Rozemyne was the first person known to create a wingless beast, in her case an automobile with the head and tail of a red panda, often mistaken for the feybeast species Grun. She calls her beast a pandabus and gave it the name Lessy.

Apart from being wingless, which allows use in tighter spaces than traditional winged highbeasts, Rozemyne's highbeast was also revolutionary because it could be ridden on the inside, protecting the rider from bad weather and allowing other comforts and the ability to more easily transport other people and luggage. This practicality though does not come entirely free, since such a highbeast requries more mana than a more traditional one[2].
The places where glass would allow the driver and passengers to see out of the vehicle are substituted by a translucent mana membrane[6].
When Rozemyne showed her pandabus at the Royal Academy, its practicality and particularly the fact that women could keep wearing their regular clothes rather than having to change into riding gear made professors and students alike very interested in the concept. It was Professor Hirschur who was the first person to successfully change her highbest into a driveable one inspired by Rozemyne's Pandabus, though modelled after a shumil instead of a panda. Since she was already used to the more traditional way of controlling a highbeast, she replaced the steering wheel seen in Lessy with reigns and was able to successfully control her new drivable shumil highbeast with ease[7].
With several of the female students attempting to create drivable highbeasts of their own, mostly modelled after shumils like the one Hirschur made, there are signs for these kind of highbeasts to become a new trend among those with a suffciently high mana capacity to sustain them.
They are however ill suited for knights, who need to use their weapons in airborne combat[8].
Proposal Feystone
These stones are specially prepared feystones that, as the name implies, are given when one noble proposes to another. This however is not their only use, since they can also be give for more casual relationships or to request escorts for the graduation ceremony at the royal academy. The more elements and the more mana capacity a stone has, the higher it's perceived quality. It is absolutely required for the stone to have all the elements that the intended recipient has affinities for and for the stone to be made from the colour of the giver's birth season[9].
The quality one should aim for is dependant on which purpose one wants to use such a stone for. For actual marriage proposals, it is highly advisable to gift the highest possible quality stone one is able to obtain by their own means.
Crafting of proposal feystones is taught at the royal academy in the second year curriculum during the class of basic brewing and crafting[10].
Storage
Feystones can be used to store mana and can be used when needed in the future. If you exceed the feystone's capacity, it turns into gold dust[11]. The feystones come in different qualities, which means they can store different amounts of mana; the higher the quality, the more expensive a feystone is.
In the same sense, feystones, usually in the form of a magic tool, are used to drain any overflowing mana from noble children that can not yet contain or compress their mana. This was seen when the overflowing mana from Dirk was drained with a feystone.
Black Feystone
Black feystones drain mana of any source they come into contact with. The draining will only stop if the target is completely empty, the contact is severed or the stone is fully saturated, at which point the stone is destroyed. Unlike with other feystones, it is not possible for a mana wielding being to cut off the mana-flow on their own, without severing physical contact with the stone or stopping whichever ranged application of mana they are performing, like the Crushing. Only by incorporating them into a magic tool can black feystone be made to only drain excess mana and thus completely save for use, even by children. Among other things they are used to create the magic tools that drain noble children's excess mana to prevent it from harming their young bodies.
Magic Tools
Magic Tools (魔術具, Majutsugu) are tools with magical properties made by nobles. They can be created either by embedding feystones in other constructs, or by blending the magical materials together in a mixing pot.
See Magic Tools
Feystone Acquisition
Feystones can be acquired by slaying feybeasts or feyplants, as well as infusing certain fruits or eggs from these beings with your mana. One such example are Riesefalke eggs, which can be turned into feystones rich in Leidenschaft's blue mana. Even commoners can acquire feystones by slaying weak feybeasts like Shumil. There is a store on the west side in Ehrenfest's lower city which buys feystones. There is also a way to turn mana-wielding Humans into feystones.[12]
Trivia
Rozemyne - when she was given a feystone and started to learn to expand the feystone, makes it into a balloon and as it grows bigger and bigger, she imagines it popping which it does[15]. Ferdinand is quite annoyed as the stone is very valuable but to his surprise she changes what she has in hands in to clay and goes around picking up the bits back together, which shocks him and he calls a halt to the lesson.
References
Navigation | May contain spoilers