This Article is based on the Official Translations of the Light Novel series!
The Light Novel series is the source material for the adaptation of the Anime and Manga series. The information and terminology on the article will be based on the source material rather than the adaptions.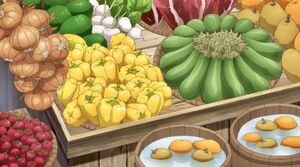 Most Fruits and Vegetables in Ehrenfest are not the same as those found on Earth. However even the ones that have no direct equivalent in our world often bear similarities in taste, texture, or shape to real-world equivalents.
Fruits
Name
Season
Location
Information

Apfelsige

Summer
Ehrenfest Central District
Apfelsige (フェリジーネ, ferijiine) is a summer fruit that can be used for sweets[1]. It is similar to a citrus fruit. Due to its similarity to a citrus fruit, Myne suggested using its peel for rinsham[1]. When squeezed it produces a pink fruit juice that can be drunk as a refreshing beverage without needing any additional ingredients or dilution with water[2].

Birne

Birne (ビルネ, birune) is a fruit that can be used to make pies[3].

Blenrus Fruit

Spring
Early Summer
Haldenzel
Blenrus trees bear golden fruits that taste sweet and are rich in mana. They are high-quality ingredients for rejuvenation potions and have a very high value. People from Haldenzel are forbidden from sharing them with outsiders without the permission of the giebe[4].

Edile

Ehrenfest Central District
Edile (エディル, ediru) is a type of fruit found in Ehrenfest that produces a sticky juice. Ediles are used in the papermaking process at the Rozemyne Workshop, where it serves as a base to create the tororo[5].
In winter, commoners use edile fruit juice to soak rags and block gaps in windows.

Fallold

Summer
Ehrenfest Central District
Fallold (コルデ, korude) is a normally sweet fruit that looks like a raspberry, but tastes different. It is sour when harvested too early in the season. It can be made into a drink by thinning its juice with water and optionally adding honey to make it sweeter[6].

Kran

Autumn
Ehrenfest Central District
Krans (クラン, kuran) are a sour fruit that can be cooked into jam[7].

Meryl

Summer
Autumn

Ehrenfest Central District
Meryls (メリル, meriru) are an avocado-like fruit. Myne uses the vegetable oil to make rinsham, but it is commonly used to cook[8].

Parue

Winter
Ehrenfest Central District
Parue (パルゥ, paruu) is the fruit of a feyplant that grows from trees only in winter mornings. The tree is almost transparent, looking like it is made out of ice. They are gathered by melting the branch the fruit is attached to. Since parue trees magically smother any fire in their direct vicinity, this has to be done with body heat. Parue fruits are drained of their sweet juice, which is used as a drink and pressed for their oil to be used for cooking. The dry remnants are then used as animal feed[9].
Myne discovers that this parue pulp resembles okara (soy pulp) and can be used as a base for various recipes, including parue cakes and parue-burgers[9].
Parue Oil also has characteristics that make it well suited for mixing coloured plant-paper ink, but it only being obtainable in very small amounts under specific weather conditions in winter makes it a less than ideal option for mass production[10].

Pome

Summer
Ehrenfest Central District
Pome (ポメ, pome) are a fruit that look like yellow bell peppers, but taste like tomatoes. Myne uses them in many of her recipes[11].

Prehre

Summer
Ehrenfest Central District
Prehre (ブラーレ, buraare) are peach-like fruits[12]. They come into season shortly after rutrebs and can be used as an ingredient in rumtopf[13].

Prunbeer

Summer
Ehrenfest Central District
Prunbeers (プヒュル, puhyuru) are fruits that come into season shortly after rutrebs and can be used as an ingredient in rumtopf[13].

Rafel

Autumn
Ehrenfest Central District
Rafel (ラッフェル, rafferu) is an autumn fruit that grows on trees. It looks similar to a ranshel, but is more sour and chewy[14]. Cut rafels dipped in honey are a winter dessert. Rafels symbolize romantic love[15][16].

Ranshel

Summer
Ehrenfest Central District
Ranshel (ランシェル, ransheru) are fruits that are tasty and easy to eat. They have a core which is normally not eaten[17].

Rio

Summer
Ehrenfest Central District
Rio (リオ, rio) is a fruit from Central Ehrenfest that produces oil[18]. Rio oil can be used as an ingredient for rinsham and in making ink.

Rutreb

Summer
Ehrenfest Central District
Rutrebs (ルトレーベ, rutoreebe) are a summer fruit loved by shumils. It has red juice and resembles strawberries[17].

Taue

Spring
Summer
Autumn
Ehrenfest Central District
Taue (タウ, tau) are tasteless, water-filled red fruit that grow from spring until autumn. They are at their largest size at the height of summer, at which time commoners in Ehrenfest collect them for the Star Festival. The friends and neighbors of the married couples throw taue at the newlyweds as they leave the temple[19].
Myne discovers that taue can germinate into the feyplant trombe when exposed to mana. The pomegranate-like fruit develops a rough texture, then suddenly explodes and scatters its seeds in a small radius. Seeds that land in soil immediately start to sprout as trombes[20]. Myne secretly uses this method to get material for trombe paper and to drain mana from Dirk to treat his Devouring[21].

Trauperle

Autumn
Illgner
Trauperle (トラオペルレ, toraoperure) is a white fruit that grows in Illgner. Too bitter to serve as food, its sticky juice is used as glue by the locals[22]. It grows at the start of autumn[23].

It is also used as a component in specialized kinds of plant paper produced by the Rozemyne Workshop. Trauperle paper is unusually silky smooth and dries in less than two bells time. It keeps its shape very well when bent, making it ideally suited for making playing cards.

Viorebe

Ehrenfest Central District
Viorebes are a sour fruit that can be made into jam. The jam is often eaten with honey[24].

Walnut

Autumn
This nut is the same as Earth's walnuts[25].
Vegetables
| Name | Season | Location | Information |
| --- | --- | --- | --- |
| Fisha | Summer | | Fisha (フーシャ, fuusha) is a green eggplant that appears in summer, commonly used in cooking[11]. |
| Laundeide | | Ehrenfest Central District | Laundeide (ラニーエ, raniie) is an onion-like vegetable common in everyday cooking[26]. |
| Mehren | | Ehrenfest Central District | Mehren (メーレン, meeren) is a carrot-like vegetable common in everyday cooking[26]. |
| Potatoffel | | Ehrenfest Central District | Potatoffel (カルフェ芋, karufe imo) is a vegetable resembling Earth's potato. They are a very common ingredient for food[27]. Myne used them to make steamed potatoes[28]. |
| Rezzuch | Summer | Illgner | Rezzuch (レズーク rezuuku) is an edible vegetable found in Illgner. It looks like a plum but tastes similar to zucchini[29]. |
| Rigar | | Ehrenfest Central District | Rigar (リーガ, riiga) is a vegetable that resembles a white radish[26]. It has a garlicky taste, so Myne incorporates it into her Italian recipes. Rigar will try to escape from the cook preparing it, and will scream and exude a red juice when crushed or chopped[30]. |
| Vargel | Spring | Ehrenfest Central District | Vargel (ヴァルゲール, varugeeru) is a vegetable that looks similar to white asparagus, but tastes like baby corn. It's best served sautéed in butter or mixed with cream. It is an early spring vegetable, but it stays in season longer when the weather is cold[31]. |
| Vel | Summer | Ehrenfest Central District | Vel (ヴェル, veru) is a red lettuce that appears in summer, commonly used in cooking[11]. |
Other Plants
| Name | Season | Location | Information |
| --- | --- | --- | --- |
| Blenrus Leaves | Spring, Early Summer | Haldenzel | Blenrus trees have golden leaves that can be used to brew a naturally sweet tea[4]. |
| Degrova | | Illgner | Degrova (デグルヴァ, deguruva) is a type of leaf that creates a sticky substance when immersed in water. it is used to make adhesives and in the paper-making process in Illgner[32]. |
| Demple | Autumn, Winter | Ehrenfest Central District | Demple (ディエンブ, dienbu) is an herb with a pleasant smell. Usually it is used for cooking, but Myne uses it along with smimosa herbs to create scented candles during the winter[33]. |
| Eise | | Ehrenfest Central District | Eise is a plant that produces an oil suitable for making ink[34]. It tends to produce yellow-colored ink no mater what pigment is used[10], because it has Wind mana attributes[35]. It is the "unevolved" version of kurhaize. |
| Gierecht | Autumn, Winter | Ehrenfest Central District | Gierecht (ギエリー, gierii) is an herb using in cooking. If burned however, it releases an unpleasant smell, as Myne found out when experimenting with making scented candles during the winter[33]. |
| Lage | | Ehrenfest Central District | Lage (レージ, reeji) is a broad-leafed herb that has a basil-like taste. Lage leaves are used as a seasoning in cooking[36]. |
| Linseed | | Ehrenfest Central District | Linseed refers to the seeds of the flax plant. Just like its real-world equivalent, flax fibers are used to make linen and hemp rope, and flax seeds are used to make linseed oil[34]. While linseed oil can be used to make ink, it is very expensive in Ehrenfest. It tends to produce blue-colored ink no mater what pigment is used[10], because it has Fire mana attributes[35]. |
| Mische | | Ehrenfest Central District | Mische is a flower or nut that produces an oil which hardens when exposed to air, making it a suitable ingredient for ink[34]. It tends to produce green-colored ink no mater what pigment is used[10], because it has Water mana attributes[35]. |
| Pedgen | | Ehrenfest Central District | Pedgen is a flower or nut that produces an oil which hardens when exposed to air, making it a suitable ingredient for ink[34]. It tends to produce red-colored ink no mater what pigment is used[10], because it has Earth mana attributes[35]. |
| Redrum | Autumn, Winter | Ehrenfest Central District | Redrum (サルコレロ, sarukorero) is an herb used for cooking. Burning it results in an unpleasant smell as Myne found out when trying to use it to make scented candles during the winter[33]. |
| Smimosa | Autumn, Winter | Ehrenfest Central District | Smimosa (ルモザー, rumozaa) is an herb with a pleasant smell. Usually it is used for cooking, but Myne uses it along with demple herbs to create scented candles[33]. |
| Tanieh | Autumn | Ehrenfest Central District | Tanieh(タニエ, tanie) are chestnut-like nuts that grow in the autumn which can be used to make flavored cream. Tanieh cream is Cornelius's favorite sweet[37]. |
| Turm | | Ehrenfest Central District | Turm is a flower or nut which produces an oil that hardens when exposed to air, making it a suitable ingredient for ink[34]. It tends to produce pastel-colored ink no mater what pigment is used[10], a result which is presumably related to its elemental attributes. |
Etymology
Name
Japanese
Romaji
Assumed
Etymology
Assumed
Translation
Apfelsiege
フェリジーネ
ferijiine
Birne
ビルネ
birune
Mehren
メーレン
meeren
Potatoffel
カルフェ芋
karufe imo

a mix of the German and English words for Potato

Prunbeer
プヒュル
puhyuru
Rezzuch
レズーク
rezuuku

courgette(GB)/zucchini(US)

Rutreb
ルトレーベ
rutoreebe
Trauperle
トラオペルレ
toraoperure
Vargel
ヴァルゲール
varugeeru
Viorebe
Rebe (DE)
Vine (usually of grape)
Trivia
References
Additional References
Navigation | May contain spoilers