This Article is based on the Official Translations of the Light Novel series!
The Light Novel series is the source material for the adaptation of the Anime and Manga series. The information and terminology on the article will be based on the source material rather than the adaptions.
Retaining her memories from her past life as Urano, Myne has recreated a number of items, dishes, and other products from her old world, mostly for her own comfort. Many are based on what she learned from her previous mother.
See also:
Printing for printing methods and related tools.
Plant Paper for paper-making methods and types of paper.
Culinary for Myne's recipes and other foods.
Fashion
Hair Ornament
Claiming that Tuuli would be cuter with a "hair ornament", Myne used the lace tatting technique to make flowers out of thread. The flowers are then sewed together by their ends and attached to a wooden pin.
Once Myne enters a business relationship with Benno she, Lutz and her family start to make these for winter handywork, though a little later Myne sells Benno and his Gilberta Company the rights to produce hair ornaments of his own, along with teaching his sister Corinna how to make them. The hairsticks are a great success and sell very well, even spreading to the nobility.
There is a wide variety of hair ornaments available for every level of society. Versions meant for poor people tend to be bought as finished products, usually made from comparatively thick and rough thread and featuring an assortment of smaller flowers, very reminiscent of the very first ornament Myne made for her sister's baptism.
The higher the quality of the materials and elaborate the designs, the higher the price climbs.
Higher ranked nobles usually have their ornaments custom-made to order, rather than buying pre-made variants. Naturally they choose to have their ornaments made out of the thinnest and smoothest thread dyed in the most vibrant colours and turned into big and elaborate flower designs.
Following a trend started by Lady Rozemyne with a dress she designed for her at the time guardknight Brigitte, some noble women have also started to order the flower ornaments without the hairpin parts to sew them to their dresses as decorations, rather than just putting them in their hair alone.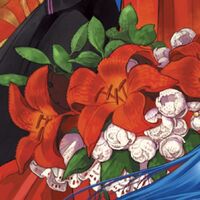 A mere five years after they first became available to buy, the product has become so well established in Ehrenfest that almost every woman at the commoners' Coming of Age Ceremony in the winter had a hairpin, whether they were rich or poor. In winter they are particularly popular since in the other seasons women can just pick flowers to put in their hair, but there are no winter-blooming flowers growing in Ehrenfest[1].





Hairstick
A thin wooden stick made from whittling wood. Myne asks Tuuli for a stick similar to Tuuli's doll's legs to tie up her hair, which she makes for Myne.
Halter-Top Dress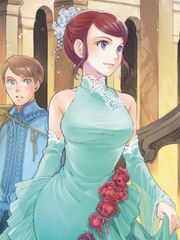 As a gift to her guard knight Brigitte, Rozemyne designs a new style of dress designed to suit taller and more well-built women. The halter-top dress is tightly fitted to the upper body, accentuating the curves of the chest and hips[2].
It uses a frilled skirt to create an elegant silhouette, and detached sleeves to highlight the shoulders. These features also have the convenient side effect of offering a wider range of movement. Later, she also adds the floral part of hair ornaments to adorn the cloth-heavy parts of the dress around the hips[3].
The sleeves are initially designed to start above the elbow, but at the suggestion of the noblewomen at Elvira's tea party, the design is modified to have them moved closer to the shoulder[3].
Rinsham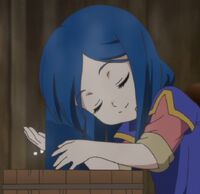 Rinsham, originally named "Simple All-in-One Shampoo," is a homemade shampoo made with plant-based oils, herbs for aroma, salt, and hot water to dissolve the salt. The simple all-in-one shampoo turns out to be valuable, as it makes the hair smooth and shiny, and the effects especially draw the attention of women. The first version Myne produced was made from meryl oil and once they were out of season she made some from rio oil[4].
If the oil does not contain enough scrub - usually because of being filtered through too fine a cloth - one can add other things like even more salt or powdered peels of certain fruits. Using pure oil and adding hand-selected scrub will lead to higher-quality rinsham, since it gives the producer precise control over which ingredient are in it, but it comes with an additional step in the production process and the accompanying time, effort and cost[5].
Upon Rozemyne's entry into noble society Rinsham becomes very popular among even the highest ranking nobles of Ehrenfest.
Over the course of several years Benno establishes workshops dedicated to the production of Rinsham, not just in Ehrenfest, but with the help of his younger sister and other more distant family members in cities throughout Ehrenfest[6].
Spoiler from Part 4 Volume 8
The high demand for Rinsham inside Ehrenfest and beyond led to a shortage of various oils used in it's creation. After Rozemyne's second year at the Royal Academy the production method for creating Rinsham was sold to other duchies at the Archduke Conference. This was done to counter the oil shortage, due to Ehrenfest being unable to accommodate every other duchy wanting to trade with Ehrenfest and because Drewanchel was already able to create their own version - albeit of lesser quality than what is produced in Ehrenfest - reverse engineered form a single sample jar[7].
Culinary
See Culinary
Games
Board Games
Myne created versions of shogi, chess, and checkers for Yurgenschmidt. All three games games were inspired by those on Earth. They are all played on the same checkered wooden board, but use different playing pieces. Ferdinand points out that they are good at training strategic thinking and that chess shares some similarities with the local game "Gewinnen" which requires mana to play and thus is only for nobles.
Karuta
Flash cards with letters on them. They are designed to help kids identify letters and learn to read. The game mechanics follow the same rules as the karuta from earth which centers around the hundred poems. Myne's karuta cards have a drawn illustration and the starting letter from the object drawn written on them. The objects are focusing on topics of the bible.
Playing Cards
These cards were inspired by Earth's card games. The cards have numbers from 1 to 9, three figures and the ace and can be used for a variety of games. Apart from entertainment, they can also be used as learning games to help children learn basic math. Initially they are made out of thin pieces of wood, but after a breakthrough in paper-making by the workshop in Illgner, the Rozemyne Workshop has started to make playing cards out of trauperle paper.
Reversi
Works like the game from earth. Made out of wood.
Books and Writing
Clay Tablets
Inspired by the Mesopotamian civilization, Myne shaped clay into tablets to write records on them. However, like the imitation papyrus attempt, it failed, the first time due to Fey and his friends stepping on them, the second time due to the gate closing, the third time due to a rainstorm, and the fourth time due to failure to bake them in the kiln.
Faux-Papyrus
Papyrus is made from the fibers of a stalk and weaved like a piece of cloth. Myne tried making paper imitating papyrus as her winter handiwork, but she gave up.
Mokkan
Mokkan from the Huang civilization, are pieces of wooden slips. Originally, Myne planned to write on them with ink, but she didn't have any ink, so she used soot mixed with water as a substitute, but that was a failure. Effa used her first mokkans as firewood later, resulting in Myne getting frustrated and collapsing.
Soot Pencil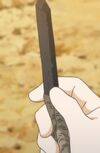 Also sometimes shortened to Soot Pen, this invention was made by Myne as a primitive substitute for Earth's pencils.
They are created by mixing soot with wet clay and letting the mixture dry in the sun. Once they are completely dried, they can be used more or less like the core of a pencil from Earth. Since they lack the wooden or plastic outer shell of their Earth counterparts it is necessary to wrap some kind of cloth around it if you want to avoid getting your hands dirty[8].
Compared to Earth's pencils, soot pencils are very soft and brittle so you have to be very careful when writing. Putting too much pressure on them will result in letters being broken and unreadable[9].
Diptych and Stylus
The diptych is the equivalent to a notepad. It is made of two wooden carved-in boards connected with metal rings on one side. The boards are hand-sized and filled with wax inside them to note down things using a stylus.
The stylus a piece of metal formed like a pen which has a pointed end on one end and a flat-shaped on the other end. The pointed end is used to write on the diptych's wax whereas the flat end is used to erase the writing. It comes with a hook, resembling earth's pens, so that it can be attached to the metal rings of the diptych.
Plant Paper
See Plant Paper.
Printing
See Printing.
Mobile Bookshelves
Based on an idea by Rozemyne these bookshelves have small wheels at their bottom, which run in rails. This allows to place more bookshelves in a given space than you otherwise could.
The current prototypes are technically working, but very hard to move when fully loaded with books, which led it's creator Ingo to start a redesign of the carriage parts in cooperation with the smith Zack[10].
Ring Binders
Ring Binders just like their Earth originals, consist of a cover and metal rings that can be opened to make storing and organizing documents more convenient.
Rozemyne gifted this product and it's production method to the Plantin Company as a reward for their hard and diligent work during her long sleep[11].
Methods
Dye Methods
Rozemyne initially begins considering different dye methods that might allow her to draw magic circles on Schwartz and Weiss's clothing without having to embroider. Even after developing magic ink for that same purpose, she decides to sell her dyeing methods to the Gilberta Company to avoid arousing Justus's suspicions about her knowledge from her previous life.
When Rozemyne introduces resist-dyeing and tie-dyeing, however, she learns that they already existed in Ehrenfest. Rihyarda remembers resist-dyeing being used when she was a young girl[12], but it fell out of use along with tie-dyeing when Gabriele of Ahrensbach brought solid-colour fabrics into fashion[13].
Anticipating that the Gilberta Company alone would not be able to meet demands, Corinna instead decides to sell the technology to the Dyeing Guild. To facilitate the spread of the new method, Otto proposes a competition "to revive old technologies" with the coveted title of Gutenberg as a potential prize for the best dye workshop[10].
Resist-Dyeing
Resist-dyeing is a technique Rozemyne remembers from the real-world practice of Yuzen, which was used to create crisp, detailed dye patterns on kimono and other fabrics in 17th-century Japan.
In resist-dyeing, the craftsman applies wax to only the parts of the fabric that should remain undyed, similar to a stencil outline. Then, a pigment is rolled over the fabric and allowed to dry. Once the colour is set, the fabric is submerged in hot water to melt and remove the wax, leaving only the dyed outline remaining.
The dyeing process can be repeated to create darker colours and more detailed designs. Different types of wax result in different textures: Pliable wax produces sharp lines, while stiffer wax can be cracked to create unique patterns[13].
Stencil Dyeing
Stencil dyeing is a dye method which Rozemyne plans to sell to the Dyeing Guild. It involves special types of ink and paper[10], making it a matter of interest for the Plantin Company.
Tie-Dyeing
Tie-dyeing is a technique Rozemyne remembers from the real-world practice of tie-dye, which involves tying or cinching fabric before dyeing to create variations in colour and pattern[13].
Myne Decimal System
Used to sort books into an order in a library. There are 10 categories and several sub-categories to classify the books into. It is based on the Nippon Decimal System.
0. General Works
1. Philosophy
2. History
3. Social Science
4. Natural Science
5. Technology/Engineering
6. Industry/Commerce
7. Art
8. Language
9. Literature
Rozemyne Mana Compression Method
See Rozemyne Mana Compression Method.
Salting Out
Salting out is used to reduce the stench and create higher quality oil for candles etc. Salt is put into the cooking water and left simmering while removing emerging impurities.
Written Math
In the beginning Myne was unable to do math using a calculator. She uses her slate and solves problems using the methods taught on earth. Mark is intrigued and learned a bit from Myne.
Utility
Candles
Reduced Smell Animal Fat Candles
These are made like regular animal fat candles, but with the method of salting out the ingredients it is possible to produce much higher quality oil and thus make candles that produce considerably less bad smell. While still not as pleasant as candles made from bee-wax, they are much cheaper to produce, making them a good alternative for poorer families.
Scented Candles
By adding various herbs to the candles while making them, they spread a pleasant scent when lit. This can be done with both animal fat and bee-wax candles. If the herbs are put on the outside or near enough the outside to show through a thin layer of wax, the herbs can also make the candle look nicer.
Carriage Suspension
This technology pioneered by Lady Rozemyne and her Gutenbergs incorporates springs between the axis of a carriage and it's main body, which allow for a much smoother and more comfortable ride than classical carriage designs, without having to rely on magic tools like the carriages of the nobility do.
The blueprints were created by Zack and refined with input from Johann. The finalized product requires a cooperation between a smithy and a carpentry workshop[10].
Chopsticks
Chopsticks are made of bamboo and can be used for a variety of tasks. Among other things they can be used to handle hot food or stir the sticky mass out of which paper is made. They are equivalent to chopsticks from earth.
Clothing Hanger
The clothing hangers used in this world are simply bars. Myne suggests to make them more rounded like the ones used on Earth, since they are less likely to damage the fabric and doesn't crumple up the clothing as much. They can be made out of wood or metal.
Crochet Hook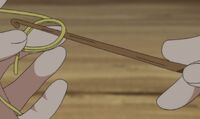 Myne asks her father Gunther to make a stick with a hook end out of wood so that she could make Tuuli's hair ornament.
After they acquire the rights to producing hairsticks themselves, the Gilberta Company orders variants of these made out of metal to allow for even finer work.


Hand Pump
Handpump are devices that can be installed at wells to enable easier access to water. By using a vacuum within the device, you can get water to flow out of the nozzle simply by pumping the lever, which requires far less time and strength than using a rope or chain to pull a full bucket from from the bottom of the well.
In the absence of rubber seals, the metal parts need to smithed with exceptional precision. At this point the only smith known to produce work of sufficient precision is Johann[14].
During Rozemyne's coma this technology spread all throughout the City of Ehrenfest and Haldenzel and is expected to become widely available in the eastern parts of the duchy soon[10].
Hide Glue
Hide glue is made of a really sticky paste harvested from the skin and bones from animals. It is used to harden book covers and for making a certain ink. Glue made from skin had a higher water resistance than glue made from bones. Both glues are made by creating a mixture containing limewater.
Spring-Feather Mattress
Another one of Rozemyne's inventions, based off of her memories of Earth. This bed uses metal springs below the mattress for a softer feeling in bed. The blueprints drawn up by Zack during Rozemyne's coma have not yet yielded a prototype of satisfying quality, so it is still a work in progress[10].
In the spring following Rozemyne's second term at the royal academy, Zack was able to present Rozemyne with a prototype of satisfying quality. While not yet reaching the quality of the mattresses produced on Earth, they are still a marked improvement over the mattresses previously used in this world[15]. Rozemyne even remarked how this mattress was so comfortable that she had trouble motivating herself to get out of bed in the morning at times[16].
Inventions from Spoiler Content
Spring-Feather Upholstery
This upholstery contains metal springs derived from Lady Rozemyne's blueprints for a Spring-Feather Mattress to make for more comfortable seating.
After finishing the first prototype of a the mattress, Zack of his own accord thought to create a chair utilizing the same principle to make for more comfortable seating. At the successful presentation to Lady Rozemyne, Lord Ferdinand also tested it and was so satisfied with the product he ordered a bench with the same kind of upholstery[15].
References
Additional References
Navigation | May contain spoilers