This Article is based on the Official Translations of the Light Novel series!
The Light Novel series is the source material for the adaptation of the Anime and Manga series. The information and terminology on the article will be based on the source material rather than the adaptions.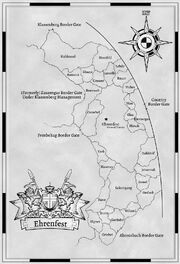 Kirnberger (キルンベルガ , Kirunberuga) is a province in the duchy of Ehrenfest in the kingdom of Yurgenschmidt.
Overview
Kirnberger is on the eastern edge of both Ehrenfest and Yurgenschmidt as a whole and contains the border gate that once connected Yurgenschmidt with its northeastern neighbor.
Its capital shares the same name as the province in general and the ruling family.
It is the birthplace of Judithe and Theodore
Borders
Province of Huber to the North.
Province of Blon to the Northwest.
Province of Glaz to the West.
Province of Hirsch to the Southwest.
Ehrenfest Central District generally to the West, but only directly borders Kirnberger in the Southwest
Province of Dahldolf to the South.
An unnamed country to the east (inaccessible).
History
Despite the gate to the neighboring country being sealed for a long time, the knights under Giebe Kirnberger diligently keep up their guard[1]. Due to this, many noble children of Kirnberger wish to become knights themselves once they grow up, in part due to the mythical beauty of the closed gate.
Story
References
Navigation | May contain spoilers