This Article is based on the Official Translations of the Light Novel series!
The Light Novel series is the source material for the adaptation of the Anime and Manga series. The information and terminology on the article will be based on the source material rather than the adaptions.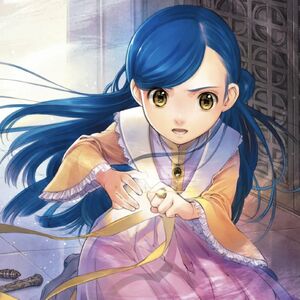 Magic (魔術, majutsu) refers to the use of mana by the nobility to create supernatural effects in the natural world.
Fundamentals of Magic
Mana is the raw magical power that is channeled to create magic. Without any tools, its uses are limited to mana attacks and physical enhancement. However, when it is channeled and directed to a specific purpose, a user can create a wide variety of effects.
To use most kinds of magic, a caster needs:
All magic in Yurgenschmidt is inherently based in religion, even when it is not cast with a prayer. Magic tools and circles use symbols to evoke the magical elements of different gods and goddesses, while schtappes are granted directly to the wielder by the "divine will" of the gods. Likewise, even "informal" prayers can result in a magical effect if the speaker dedicates mana while praying sincerely.
Magic is considered the exclusive domain of the nobility. Nobles are not permitted to teach commoners about magic. There are a few minor magic utilities designed for commoner use, which are sold at high prices to the only the wealthiest and most influential of commoners. Even those commoners who can acquire broken or flawed magic tools generally lack the mana capacity to use them.
Magic Conduits
The two main ways mana can be channeled are feystones and schtappes.
Feystones are made of crystallized mana and act as natural "batteries" that can absorb, store, and transport mana. Any physical tool or object that can channel mana (such as a magic ring, a divine instrument, or a magic tool) uses some form of feystone as its base.
Schtappes are incorporeal tools given by the gods to students at the Royal Academy. Once a student learns to manifest them, they can use them to channel mana in a variety of ways, including writing magic circles and granting blessings[1].
Forms of Magic
Mana Attacks
The most basic use of mana is to hurl it directly at an enemy to cause damage. When someone does this without a conduit, it is called the "Crushing": a physical pressure that slowly crushes whomever the user sees as a threat[2].
To create significant damage, a person can attack with raw mana channeled through a schtappe or a divine instrument. Depending on the amount of mana used, this can creates a wave of force that can knock back opponents or vaporize them where they stand[3].
A manablade is a form of weapon designed to attack with the force of mana, in addition to basic physical strength.
Enhancement Magic
Enhancement magic (身体強化, shintai kyouka) is the use of mana channeled around the body (or to a specific part of the body) to increase physical abilities, such as speed, strength, or eyesight. It requires an immense amount of mana[4], making it difficult even for archnobles to use. The more adept a person becomes at using it, the more efficiently they can use their mana.
This kind of natural enhancement is also the reason many feybeasts have supernatural strength and speed.
Blessings
Blessings are created when a person channels mana through a conduit and speaks a prayer to the gods. Depending on the prayer and the god invoked, this can have a variety of effects, ranging from healing wounds to creating protective barriers.
See also:
Spells
Spells are short, one-word incantations that can only be used by nobles who have attended the Royal Academy and obtained a schtappe. They are easier to use than the lengthy prayers required to cast blessings, and can result in a similar, if more limited, effect.
Spells can also be used as activation commands for certain magic tools. For example, "ordonnanz" is the spell command used to activate an ordonnanz feystone.
See also:
Magic Circles
Magic circles are written diagrams that use symbols representing different elements to dictate a specified magical effect. When a user supplies their mana to the magic circle, the effect will occur automatically.
Because of the complexity of magic circles, they are primarily studied by scholars, who learn about them in the Royal Academy and develop and refine new magic circles in their research. Those circles are typically then engraved into feystones to create magic tools that can be used by anyone, regardless of their level of expertise.
Magic Tools
Magic tools (魔術具, majutsugu) are items that can produce a specified magical effect whenever they are supplied with mana. To make one, a person usually engraves a magic circle into a feystone or other mana-conductive material. A feystone can also be imbued with magical properties by processing it in other ways.
These are used for everyday purposes, such as locking and unlocking doors or preventing eavesdropping. The advantage of a magic tool is that it requires no expertise to use, only mana, and that the effect can be replicated in exactly the same way every time. There are even some magic tools designed to be used by commoners.
See also:
Potions
Potions are magical substances made by compounding various mana-containing materials, such as feystones or parts of feybeasts or feyplants. They can create a variety of effects when used or consumed, such as restoring mana and stamina or healing damaged mana pathways.
The compounding process can also be used to create other (inedible) types of substances, such as magical ink. However, these are generally not referred to as "potions."
See also:
References
Navigation | May contain spoilers