This Article is based on the Official Translations of the Light Novel series!
The Light Novel series is the source material for the adaptation of the Anime and Manga series. The information and terminology on the article will be based on the source material rather than the adaptions.
"

All things that live atop land suffused with mana contain mana, however slight the actual amount may be.

"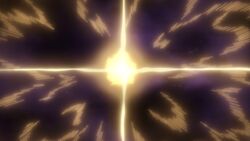 Mana (魔力, maryoku) is raw magical energy that can be channeled into magic.
While all humans have trace amounts of mana, only the nobility possess enough mana, and have the magical tools required, to cast magic.
Overview
Mana is present in all living creatures, including humans, animals, plants, and even some inanimate materials. However, in the vast majority of cases, the level of mana is so low as to be effectively nonexistent. Therefore, commoners are typically referred to as "not having mana." The same is true for many animals and nonmagical plants.
Nobles typically have higher amounts of mana. They can learn to channel it through magic tools, control it with a schtappe, use it to power magic circles, and dedicate it to the gods in order to give or recieve blessings.
Commoners typically have very little mana. In the rare case that a commoner is born with mana, they do not have magic tools used to siphon off and store their excess mana. They typically suffer symptoms of severe fevers and die at a young age. This is called the Devouring.
Unlike humans, flora and fauna that have mana (called feyplants and feybeasts respectively) have naturally adapted and do not require magic tools to survive mana exposure. The distinction between "fey" and "nonmagical" plants is not always as clear as separate species. For example, the magical Kurhaize plant is the "evolved" variant of Eise, a common plant.
Biology
Anatomy. The humans of Yurgenschmidt have an internal organ which stores and processes mana within the body, which Myne guesses is equivalent to the real-world heart. Mana is carried in bodily fluids, including blood and tears. Because commoners have no way to channel their trace amounts of mana, they typically use blood to operate basic magical tools.
When an organism with mana dies, including nobles, feyplants, and feybeasts, their mana gathers and hardens around their mana organ and forms a feystone[1]. While human feystones are generally laid to rest in a funeral, the feystones of plants and animals are an important material for magic tools and potions.
Birth and Fertility. The amount of mana a child is born with is based primarily on the mana capacity of the mother.[2] Mana capacity also has an impact on fertility: in order to conceive a child, the mana level difference between spouses need to be less than 30%. Those with very different levels of mana typically cannot have children[3]. Although it is technically possible for the one with higher mana level to reduce his/her mana compression level to match his/her partner's, it is still detrimental in the long term.
Mana Exposure. A child's mana capacity grows as they age. However, humans are not well-equipped to deal with the mana they possess; they rely on magical tools to siphon and store excess mana to stay alive. When too much mana builds up in the body, it causes symptoms including stunted growth, severe fevers, and boiling or bubbling skin. According to Ferdinand, those who lose control of their mana die in a horrific manner (by explosion).[4] To prevent this, noble children are given magic tools that absorb their mana until their Baptism, when they begin to learn to channel mana.[5]
Fatigue. Mana is a form of energy, and expending mana can lead to physical symptoms of tiredness and fatigue. Food and sleep are both important elements in restoring mana, and using mana with very little nourishment or rest can cause a person to become dizzy or fall ill.
Society
Mana is a key defining factor of social class in Yurgenschmidt; at the most basic level, the difference between a noble and a commoner is the amount of mana they possess. However, even those born into noble families can't retain their rank unless they possess the requisite amount of mana. Those with too little mana may become servants to their family members or be sent to the temple. The reverse is also true: Commoners can be born with a significant amount of mana. However, the result is usually an early death, since commoners do not have access to magic tools.
Because mana is so critical to social status, nobles do not customarily announce the birth of their child until their baptism at age seven. This allows them to determine that the child has enough mana to fulfill the family's needs[6]. Succession within a noble family is determined by mana capacity rather than by age.
See Qualifying Factors for Nobility
Mana Elements
Mana is not a unified single thing, but comes in different variations, depending on which god it is associated with.
See Mana Elements
Mana Usage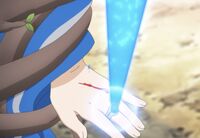 Mana cannot be used by itself. Much like electricity needs to be channeled through cables or appliances, mana needs to be channeled through conduits to achieve a desired effect.
When mana is used without a conduit, it manifests as "the Crushing": a physical pressure in the air, a haze of mana around the user, and a change in the colour of their eyes. This is dangerous for young children, who are at risk of losing control of their mana and suffering physical harm.
Mana Compression
Mana compression (魔力圧縮, maryoku asshuku) is a means of increasing the amount of mana a person has. By internally condensing mana as much as possible and keeping it condensed, the remaining "extra space" is then naturally replenished with new mana. The existing mana and the new mana are then compressed together, creating more space for mana to be restored. By repeating this process several times, a person can acquire more mana.
Children. While the body is still growing, mana compression can stimulate the growth of the mana-storing organ. That increases the amount of space available to store mana, as well as the density of the mana in that space.
Adults. Although adults can use their existing mana capacity to store more mana by increasing its density, they cannot increase their capacity.
The process of mana compression comes with a number of risks. As happens in the Devouring, any child with a high density of mana will suffer stunted growth and potentially dangerous fevers. It also increases the likelihood of causing harm if a person loses control of their mana. Furthermore, compressing too much mana too quickly can lead to symptoms of headaches, dizziness and nausea. At the Royal Academy, several professors are present in first-year mana compression classes to ensure that overly ambitious students can get medical attention.
Most people use a visualization method to compress their mana, although the type of image they use depends on the person. They might imagine stuffing their mana into a box, boiling it to remove impurities, or folding it like a piece of cloth. The clearer the mental image, the more effective it is likely to be. However, like an exercise-based diet, the success of any given compression method depends largely on willpower and effort.
Rozemyne Mana Compression Method
In her desperate attempt to curb her overflowing mana for survival as a devouring commoner, Rozemyne developed a highly effective mana compression method that consists three (and later four) steps. It is the most effective mana compression method known so far, capable of raising a noble's mana level to equal one of a higher rank.
See Rozemyne Mana Compression Method.
Trivia
References
Navigation | May contain spoilers