This Article is based on the Official Translations of the Light Novel series!
The Light Novel series is the source material for the adaptation of the Anime and Manga series. The information and terminology on the article will be based on the source material rather than the adaptions.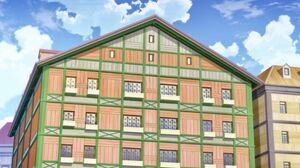 The Othmar Company is run by Gustav, the Merchant's Guild guildmaster[1].
Location and Description
The Othmar Company is at the northern most end main road leading to the temple[2].
1st floor: Othmar Store
2nd floor: House of Gustav and his generation
3rd floor: House of Gustav's children and their spouses plus their children.
4th floor and above: Houses for Othmar Company employees.
There is also a basement that contains a noble style bath. Gustav has spent a large sum of money to remodel the home after a nobles mansion. This was done so that Freida would have an easier time when she moves to the Noble's Quarter. The family's' floors are connected by a central staircase.
Goods and Services
The Othmar Company deals in foodstuffs. It has strong connections to the nobility and therefore has easier access to luxury items like sugar[5].
History
The Othmar Company has a long history as it existed before the current line of archdukes came to the city and renamed it Ehrenfest. While the new Aub could bring all his own craftspeople, local knowledge is needed to obtain the best food. Due to the troubles of the new nobility interacting with the commoners, it was decided to set up the Merchant's Guild and the Othmar Company was selected to be the third party negotiator[6].
Trivia
The window glass in Freida's bedroom is clear and straight compared to the guest room using wavy glass. This is due to her suffering from the devouring which made it impossible for her to mingle in with the crowd outside. She would eagerly watch the children walking down the main street for their baptism from her room[4].
References
Navigation | May contain spoilers