This Article is based on the Official Translations of the Light Novel series!
The Light Novel series is the source material for the adaptation of the Anime and Manga series. The information and terminology on the article will be based on the source material rather than the adaptions.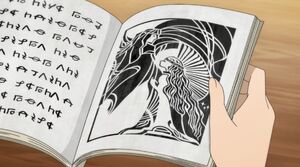 Printing is an innovative technology that was first established in Ehrenfest by Myne, who used her memories of her life on Earth to recreate early printing methods.
In just a few years, printing has become a key public industry of Ehrenfest, sponsored by Aub Ehrenfest himself.
Industry
Once Rozemyne entered noble society, the printing industry began to spread in earnest. She established new paper-making workshops in Hasse and Illgner, with plans to create printing workshops in other provinces as soon as smiths and craftsmen could be trained.
Key figures in the printing industry include:
The Gutenberg, a group of craftsmen and merchants involved in developing and marketing printing technology under Rozemyne.
Printing Methods
Since awakening in the new world, Myne has attempted several early printing methods, listed here in the order they were created.
Woodblock Printing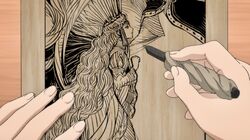 Woodblock printing is the earliest method Myne attempted, because it requires minimal machinery outside of wood, ink, and carving tools.
A mirrored version of the final design is drawn onto a large block of wood. Then, a person uses precise carving tools to carve out all areas that will not be coloured in the final drawing. This creates a large stamp, called a "woodcut," that can be used to copy the same image onto many sheets of paper.
Ink is applied using a roller; if one is not available, a small brush can be used, but this takes more time and leaves more room for errors. Then, the paper is set on top and carefully pressed down using a baren, which applies even pressure without damaging the paper.
Woodblock printing has a number of drawbacks:
It is time intensive and difficult to precisely carve out any design, especially detailed designs. Additionally, if the carving is not done in negative, it will result in a black page with white letters and a negative image of the picture. That requires the carver to carve out all the wood around the letters, leaving them raised.
Unlike the printing press, which uses moveable letter types that can create any combination of words and letters on the page, a new woodcut must be made for each individual printed page.
It is theoretically possible to use woodblock printing with copper instead of wood. Rather than carving the design, it would be etched out with acids. However, Myne soon discarded this method as unrealistic due to the difficulty of obtaining the materials and the danger the acid might pose to the children in the orphanage workshop[1].
As a result of the challenges associated with woodblock printing, Myne ultimately opted to switch to stenciled templates and later full-on mimeograph printing. However, her lesson in using simplified art and designs held true for the other methods as well[2].
Mimeograph Printing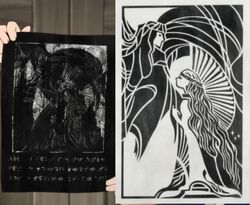 Mimeograph printing uses pre-cut stencils, similar to the stamps used in woodblock printing, but is overall a much simpler and more adaptable printing method.
Prior to developing wax paper, Myne used a kind of pseudo-mimegraph printing, where the wax paper was substituted with thick regular paper. Once a design is drawn on the paper, a peson uses a precision knife to cut out the areas that will be filled with ink in the final design. The stencil is then affixed to a normal piece of paper using a mimeograph frame[2].
The mimeograph frame (a wooden frame with a thin silk mesh, fitted to a hinged stand) is used to keep the paper and the template in place and prevent smudging or smearing when ink is applied. Once stencil, paper, and frame are all affixed on the stand in the correct order, the frame is closed and ink is applied using a roller.
Using thick paper comes with two disadvantages.
The templates can only be used a single time. Once the ink dries, the template curls up and deforms, making it unusable for a second printing session.
Having to cut the thick paper is much more difficult than cutting the much thinner wax paper and thus does not allow for as thin lines to be made, which won't allow the artist to bring out as much detail.
Eventually, Myne commissions Zack and Johann to create a wax rolling machine for making wax paper. The new wax templates can be used many more times, reducing the time and cost of mimeograph printing and also take better the fine lines and thus allow more details to be put into an illustration than the thick paper-templates or ones carved into wood.
The fine detail also enabled the Rozemyne Workshop to print sheet music, which they were unable to do before developing wax paper[3].
Like woodcut printing, a new stencil must be cut by hand for each individual page or design. As a result, mimeograph printing is best suited for printing illustration, sheet music or at the most short text passages.
Compared to woodblock printing, however, mimeograph printing is better suited for mass production in several ways. It is less time consuming to cut paper stencils than to carve wood, and it doesn't require the expertise of a woodworker. The designs can also be cut normally, without needing to be mirrored or inverted. Finally, the thinness of the stencils makes it possible to use multiple templates on a single page, making it more adapatable than the full-page woodcuts.
Pseudo-Mimeograph printing was used to print the first mass produced book in Yurgenschmidt, the children's bible.
The first printed products that used actual Mimeograph printing with wax-stancils were illustrations of Ferdinand that were then sold at the charity concert held to raise funds for the Hasse Monastery and the further development and spread of the printing industry[3].
Movable Type Printing
Movable Type Printing utilizes printing presses and metal letter types to easily mass-produce text-heavy pages for books.
Related Technology
Baren
A baren is a tool for pressing paper evenly against a woodcut template without damaging the paper. It is made from a single board of wood of the fitting size, that is wrapped in a layer of clothes, which in turn is wrapped in a layer of bamboo[4].
Fixing Agent
When coloured plant-paper ink is applied onto plant paper or mixed with other colours, the colours change in counter-intuitive and seemingly random ways. The ink also quickly loses intensity, leaving only faded letters behind. This can be prevented by treating the paper with a fixing agent before applying the coloured ink. This was able to figure this out thanks to her mother's expertise with dyes.
During Rozemyne's coma, Heidi continued her research and made some strides. She managed to develop a varnish-like fixing agent that can be applied on top of ink that allows to apply a differently coloured ink on top without the two mixing, thus preventing the unexpected changes in colour that were found in the initial research[5].
Plant-Paper Ink
The ink commonly used for writing in Ehrenfest is not sticky enough for use in printing. It also is designed for the sturdier material of parchment, and will cause the thinner plant paper to decay over time. Instead, Myne and Heidi worked together to formulate plant-paper ink made from soot and linseed oil[4]
Later, she tasked the Bierce Workshop with developing coloured ink. The people doing the actual research within the workshop were Heidi and Josef, who Myne granted the title of Gutenberg upon the successful completion of the task.
Mixing the ingredients for the ink with different oils results in very unexpected colour changes that at first didn't seem to make any sense and could only be empirically researched and documented.
As Rozemyne discovered later by chance in an unrelated project, the colours are actually related to magic. Even non-magical plants and minerals contain tiny quantities of mana and the unexpected colours are a result of the elemental makeup of this mana. But since magic tools to test the mana-quality of ingredients are very hard to come by even for high-ranking nobles, they are still stuck with empirical research[6].
During Rozemyne's time in the jureve the method to produce black printing ink has been spread to multiple provinces in the Duchy of Ehrenfest, but for now the way to produce coloured printing ink held exclusively by the Plantin Company and their associated workshop[6].
Printing Press
By having Ingo, Johann and Zack cooperate, Rozemyne is able to create various versions of printing presses - machines that can very easily create multiple copies of the same texts in a very short timespan. They started out by modifying a food press as a proof-of-concept and a stepping stone, but have since developed purpose-built printing presses that are expected to revolutionize the world.
Rozemyne got inspiration for these machines from Earth's Johannes Gutenberg, who also started his pioneering of the printing technology by modifying a wine-press.
During Rozemyne's coma the carpentry workshops of Haldenzel have learned how to build their own printing presses to a standard that satisfies Ingo. They are yet to produce metal letter types that meet Johann's approval, but are confident that they will achieve this soon[6].
Metal Letter Types
Metal Letter Types are rectangular pieces of metal with raised letters, numbers or signs on one end to be used in printing presses. Due to how many and how closely such types are fitted to make up an entire line in the printing process, they absolutely need to be smithed with exceptional precision. So far only the smith Johann has proven himself to be able to reliably produce types of sufficient quality, though smithes from Haldenzel and Johann's disciple Danilo have recently come close and are expected to soon earn Johann's approval.
Precision Knife
The precision knife is a small and narrow blade used to cut paper. The handle is made out of wood and the exchangable blade is made of metal. Myne requests the blade to be fit perfectly into the handle to ensure safety. Due to it's narrow, thin and exceptionally sharp blade, it is highly advisable to either use a cap over the blade, or store the knife in a special case to prevent accidental damage to the blades or injury.
Precision knives were first designed by Myne and produced by Johann[2].
Roller
A roller is a tool to apply ink in woodblock and mimeograph printing. It consists of a cylinder made from metal at its core, that is surrounded by material to hold the ink, like cloth and a handle.
Using a roller makes it far easier to apply the intended amount of ink evenly over entire pages of paper, while keeping one's hands clean. Rollers were first designed by Myne and produced by Johann[2].
Wax Paper
Wax paper is made by coating a piece of paper with very thin layers of wax in a specialized machine. Once the wax is cooled down, this wax paper can be used to create stenzil templates that work better and last much longer than those made from regular paper. It can also be used to prevent the surfaces on which the printing takes place from getting ink on them. The thinner the paper used for this the better.
The only paper that can be made thin enough to be suitable for this process is trombe paper, since any other kind of paper the Rozemyne Workshop tried to thin down became impossible to peel off of the drying stand without ripping.
Recently Illgner managed to produce the equally thin rinfin paper, which is sure to reduce the cost of wax paper, since trombe paper is the highest priced premium paper due to its quality[7].
Printed Products
Products are listed in the order they were first created.
Picture Book
When Myne found out she was going to be a big sister, she decided to make a picture book for the baby. It has pictures containing simple forms like squares and triangles arranged in certain manners. It uses particularly thick paper to make the pages more resilient and long-lasting, since a babies the books are intended for are far too young to treat a book with care.
Children's Bible
After making her first picture book, Myne's first larger project was a children's version of the bible with illustrations by Wilma. This was originally made using mimeograph printing.
See Children's Bible.
Coloured Book
Only one book has been successfully printed with coloured illustrations so far. Printing with colour is far more costly and time-intensive than printing in black and white; keeping overlapping colours from mixing is particularly hard. Currently, the Rozemyne Workshop uses mimeograph printing to create coloured illustrations[8].
Storybook
Storybooks are printed using a combination of mimeographed illustrations and text pages printed with a printing press. They have more words and fewer images compared to previous books. Current storybooks include:
Knight stories compiled by Rozemyne, based on stories she gathered from children in the winter playroom.
Romance novels written by Elvira, which have been very well-received among the noblewomen of Ehrenfest.
A compilation of commoner stories from Groschel made by Gil and Lutz for Rozemyne. Currently this book is one of a kind and not commercially available[9].
Ahrensbach Knight's stories: Stories popular in the duchy of Ahrensbach that Aurelia told to Rozemyne, who arranged them into a book[10]. Many of them are about knights battling maritime feybeasts.
Sheet Music
After making her first collection of short stories, Myne returns to mimeograph printing to print design-based products. One of them is a collection of sheet music for the harspiel, arranged by Rosina and Ferdinand and composed by Myne[11].
Recipe Books
After making her first collection of short stories, Myne returns to mimeograph printing to print design-based products. One of them is a book of her recipes, aptly titled Rozemyne's Ravishing Recipes. The initial release of the book is very limited at a premium price[12].
Over time books with more recipes are produced.
Other Books
Spoiler from Part 4 Volume 9
Dunkelfelger History series: This series of books is a transcription of a very thick book on the history of the duchy of Dunkelfelger that Rozemyne translated into modern vernacular. Due to the length of the text the Plantin Company decided to split it up into multiple parts and print and release it as a series[13].
References
Navigation | May contain spoilers